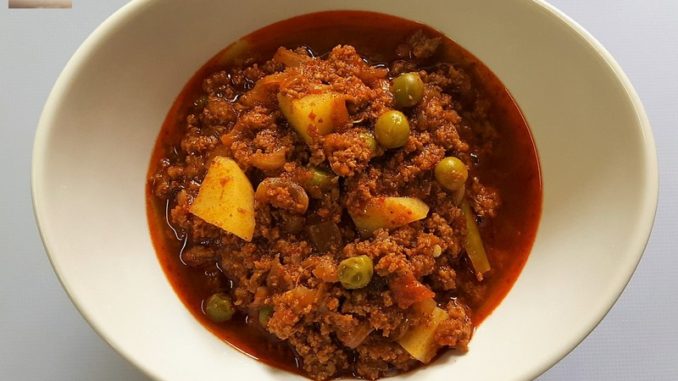 The Goan Red Beef Mince is very easy to make. It can be served with rice and that's it. No other accompaniment is needed. Children as well as seniors will also enjoy it as there is no hassle eating it. I can also be served with pao or chapatis.
Serves: A Family of Four
Prep. Time: 30 Mins. + 30 Mins. (marination)
Cooking Time: 50 Mins.
Ingredients:
[Standard Measure – 1 cup = 200 ml.]
Beef Mince (fine ground) – 500 gms.
Lime – 2 small
Onions (finely chopped) – 4 medium
Tomatoes (finely chopped) – 2 medium
Green Chillies – 2 (optional)
Potatoes (finely chopped) – 1 medium
Green Peas (frozen) – ¼ cup
For the Masala:

Kashmiri Red Chillies (stemmed) – 6
Cloves – 8 to 10
Cinnamon – 2 inch
Cumin Seeds – ½ tsp.
Black Pepper Corns – 1 tsp.
Ginger – 1 inch
Turmeric Powder – ½ tsp.

Tamarind – 1 lime small sized ball (soaked in ½ cup water)
Stock Cube – 1 small (optional)
Sugar – 1 tsp.
Oil – 3 tbsp.
Salt – 1 tsp.
Step 1: Grind the ingredients listed under masala to a fine paste using a cup of water and keep aside.
Step 2: Wash the mince and leave to drain well using a fine sieve for at least 30 minutes.
Step 3: Apply 1 tsp. salt and the juice of the limes to the mince and leave to marinate in the refrigerator for 30 minutes.
Step 4: Later, heat 3 tbsp. oil in a heavy bottomed vessel. Put in the onions and sugar and fry the onion till light golden on medium heat.
Step 5: Next add the tomatoes and cook covered on low heat till they turn soft and pulpy (about 10 minutes).
Step 6: Add the mince and continue cooking on low heat for 10 minutes. Mash the mince with the backside of your ladle to avoid it forming lumps.
Step 7: When the mince is lump free, add the chopped potatoes, peas and cook for 5 minutes. Add the ground masala paste, ½ cup water, crushed stock cube (optional) and mix well. Cover and cook on low heat for 15 to 20 minutes.
Step 8: Finally add the tamarind water and covered for another 10 minutes.