The Prawn Egg Fried Rice is an Indian adaptation of Chinese Fried Rice. Everyone in my household loves this version of the fried rice as the egg and the prawns give the dish an awesome flavour. All you have to do is serve this hot with some chilli-vinegar on the side and you don't need anything else.
Serves: A Family of Four
Prep. Time: 30 Mins.
Cooking Time: 18 to 20 Mins.
Ingredients:
[Standard Measure – 1 cup = 250 ml]
Basmati Rice (cook as detailed here) – 1 ½ cups (uncooked)
Eggs – 2
Prawns (small, cleaned & deveined) – 1 cup
Spring Onion Whites (finely chopped) – 3
Spring Onion Greens (finely chopped) – 2 tbsp.
Round French Beans (finely chopped) – 8
Carrot (cut into tiny cubes) – 1 medium sized
Frozen Peas (thawed, boiled & drained) – ¼ cup
Black Pepper Corns (coarsely ground) – 1 tsp.
Black Pepper Powder – ½ tsp.
Dark Soy Sauce – 2 tsp. or to taste
Oil – 4tbsp.
Salt – ¼ tsp. or to taste.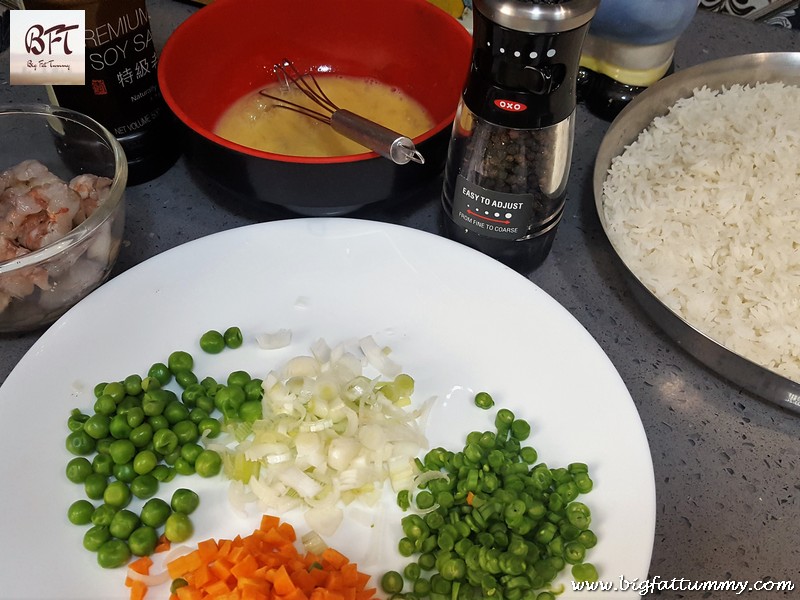 Step 1:     Beat the eggs in a bowl and season with a pinch of salt and ½ tsp. pepper powder and keep aside. Apply ½ tsp salt to the cleaned prawns and keep aside for 15 to 20 minutes.
Step 2:     Heat a wok or a non-stick frying pan and 1 tbsp. oil to it. When hot add the beaten eggs and scramble them.
Step 3:     Shift the scrambled eggs to one side of the pan. Add 1 tbsp. oil and the spring onion whites and sauté on high heat for a minute. Next add the prawns and sauté on high heat till they change colour.
Step 4:     Add the last of the oil and the chopped french beans and carrots and continue to stir fry them on high heat for 2 to 3 minutes. Then add the peas and salt and sauté for another minute. Mix the egg with all the vegetables and prawns and fry for another minute.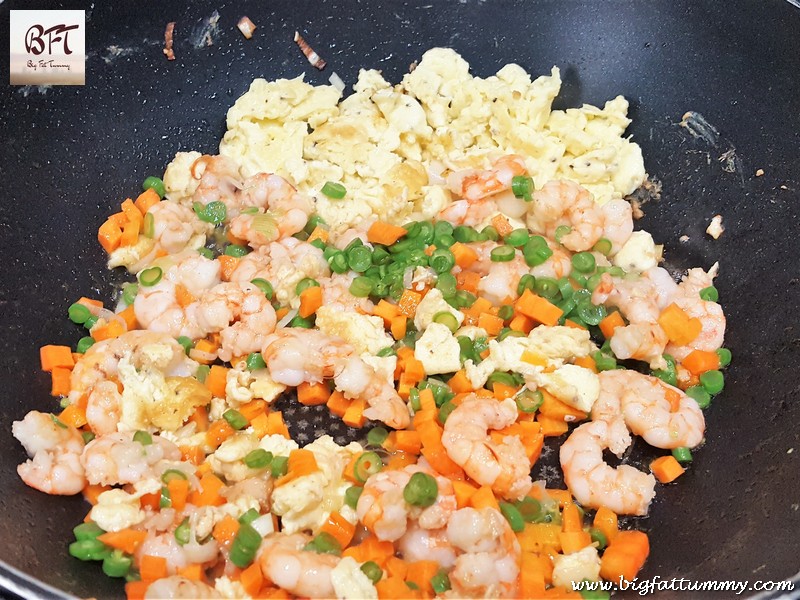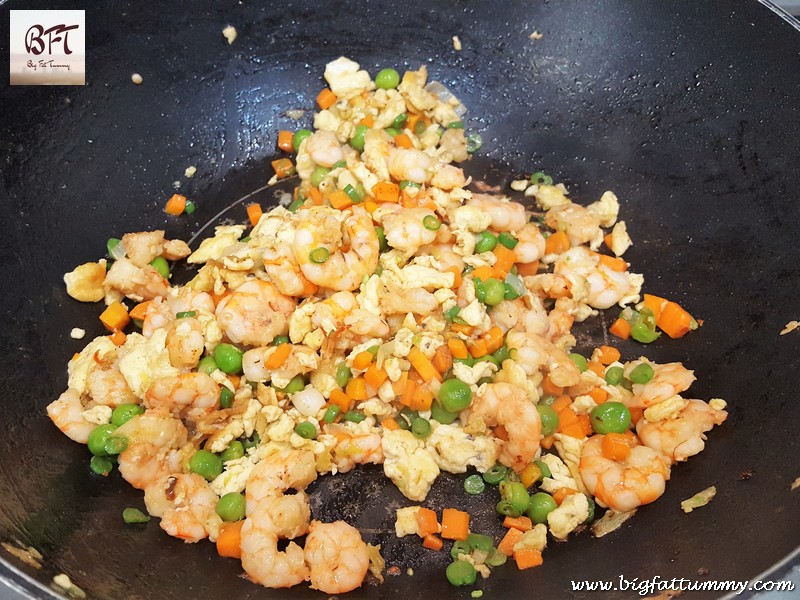 Step 5:     Add the rice, coarse pepper and soy sauce and mix gently so as to not break the rice grains. Cover and cook on low heat for 2 minutes. Sprinkle the spring onion greens. Switch off the heat and serve hot with the chilly-vinegar.