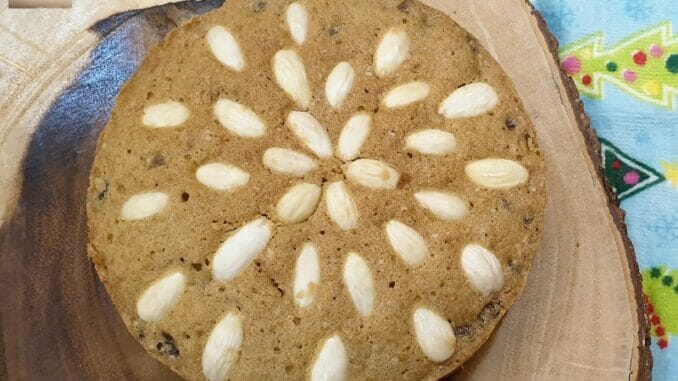 The Dundee cake is a rich fruit cake of Scottish origin (Our names are of Scottish origin too, Sean and Ina 🙂 ) The cake is flavoured with whisky and orange zest. The cake is easy and quick to make. What's good is also that the sultanas (golden raisins) and the orange peel that we use in this cake do not need soaking in the alcohol.
Yield: 600 gms
Prep. Time: 30 Mins.
Baking Time: 60 Mins.
Ingredients:
Self-Raising Flour – 70 gms
Almond Meal – 20 gms
Brown Sugar (fine) – 75 gms
Butter (soft) – 80 gms
Eggs – 2 (small)
Sultanas – 125 gms
Candied Orange Peel (chopped) – 25 gms
Freshly Grated Orange Zest – 1 tsp.
Almonds – 40 gms
Whisky – 15 ml
Step 1: Take the whole almonds in a bowl and pour hot boiling water over them. Keep for 5 minutes and then drain. Now peel off the skin of almonds and keep aside (just press between fingers, the skin will slide off).
Step 2: Mix the self-raising flour and almond meal. Take 1 tbsp. of this flour and add to the sultanas and candied peel in another bowl and mix around till all the fruit is well coated with the flour.
Step 3: Set your oven to pre-heat at 150°c.
Step 4: Cream the sugar and butter with a hand mixer till creamy. Add the eggs one at a time and whisk till blended for a few seconds each.
Step 5: Next add the orange zest and whisky and whisk.
Step 6: Add the flour-almond meal mixture in two batches and fold in using a spatula.
Step 7: Finally fold in the sultana-orange peel into the batter in two batches.
Step 8: Pour the batter into a 6-inch pan lined with parchment paper. And level the surface with a spatula.
Step 9: Arrange the peeled almonds on top as in the picture. Then bake in the preheated oven for 60 Mins. After baking, demold and sit the cake outside for a day or two before cutting it.