The Lauki Ka Halwa / Doodhi Ka Halwa is a popular Indian sweetmeat. Although it is made with the humble bottle gourd the sweet is rich in taste with the addition of full cream milk, mawa and clarified butter. If you are not able to get fresh mawa / khoya, you can use condensed milk as I have done in this recipe. Only that when made this way the halwa is a bit wet and sticky. There is no compromise on taste though – it tastes out of the world.
Serves: 6 Persons
Prep. Time: 10 Mins.
Cooking Time: 55 Mins.
Dry Ingredients:
[Standard Measure – 1 cup = 200 ml]
Lauki – 1 big (4 cups grated)
Milk (full cream) – 200 ml
Condensed Milk – 200 gms
Cardamom Powder – ½ tsp.
Ghee – 4 tbsp.
Sugar – 1 tbsp.
Cashew Nuts (chopped) – 8 to 10
Green Food Colour – a few drops (optional)
Step 1: Peel the bottle gourd, slice vertically and remove the inner spongy portion. Then grate the lauki and once done, use your palms and squeeze out as much liquid as you can and keep the grated lauki aside.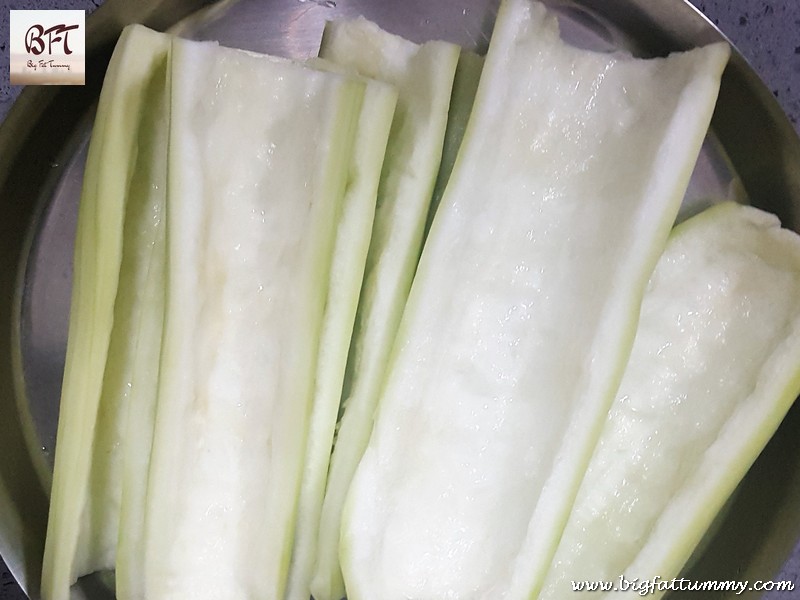 Step 2: Take a heavy bottomed pan and heat the ghee. Fry the nuts till light golden on medium heat. Drain the nuts and keep aside.
Step 3: Add the grated lauki to the same pan and sauté for 10 minutes on medium heat. Alongside warm the milk slightly.
Step 4: Add the warm milk to the doodhi in the pan and cook for about 20 minutes on low heat till the doodhi is soft and the milk has dried out / been absorbed.
Step 5: Add the sugar and stir around for 5 minutes to melt the sugar. Finally add the condensed milk and food colour (optional) and cook stirring continuously till the halwa has thicked. Mix in the cardamom powder and garnish with the nuts. Serve warm or cold.