Bimbla's are in season!. Rush outside and pick some from your yard. Or rush to the market and get your hands on some. We're cooking the Goan sungta bimbla koddi for lunch today. My mouth has already started watering. Hot rice and the nistya koddi for us susegad Goans is no less than divine indulgence. Yes, I'm going to make some crispy prawns (recipe here) or maybe some pepper rawa fried prawns (recipe here) to accompany the meal. Total bliss ?
Serves: A Family of Four.
Prep. Time: 20 Mins.
Cooking Time: 18 to 20 Mins.
Ingredients:
[Standard Measure – 1 cup = 200 ml.]
Bilimbi (washed & halved lengthwise) – 12 to 15
Prawns (cleaned & deveined) – ½ cup (small variety)
Turmeric Powder – ½ tsp.
For the Masala:

Coconut (grated) – 1 cup (tightly packed)
Kashmiri Red Chillies – 5
Corriander Seeds – 1 tbsp.
Cumin Seeds – ¼ tsp.
Tomato (chopped) – 1 small
Onion (chopped) – ½ of medium sized
Garlic – 4 cloves

Onion (finely chopped) – ½ of medium sized
Thick Coconut Milk (see here) – ½ cup
Green Chillies (slit) – 2
Salt – 1 ½ tsp. or to taste
Step 1: Apply ½ tsp. salt to the bilimbis and keep aside for 10 to 15 minutes.
Step 2: Apply ½ tsp. salt and ¼ tsp. turmeric to the prawns and keep aside.
Step 3: Grind all the ingredients listed under masala with ¼ tsp. turmeric to a fine paste using 150 ml water.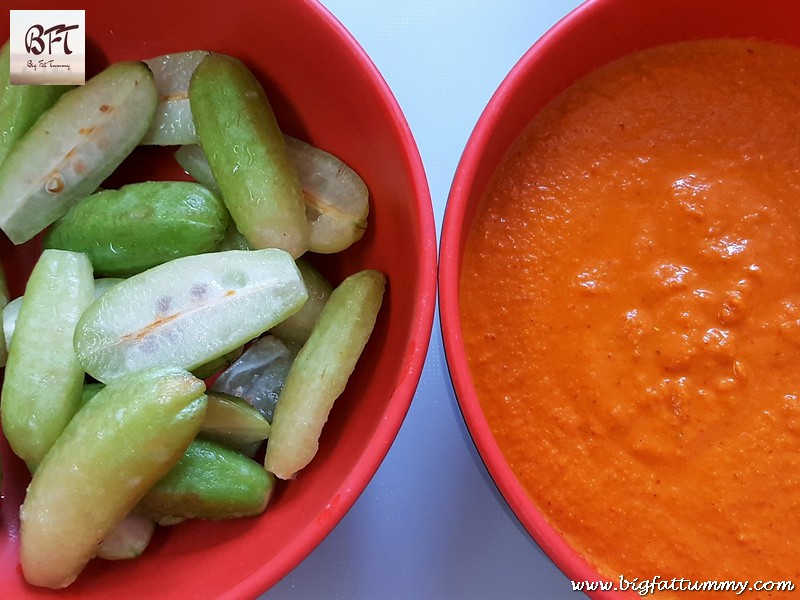 Step 4: Take a vessel suitable to make the curry. Add the chopped onion and sprinkle ½ tsp. salt on it. Mix well with your fingers. Then add the prawns, the bilimbis and the ground masala to the vessel. Rinse your grinder (mixie) jar with 1 cup water and add this water to the vessel.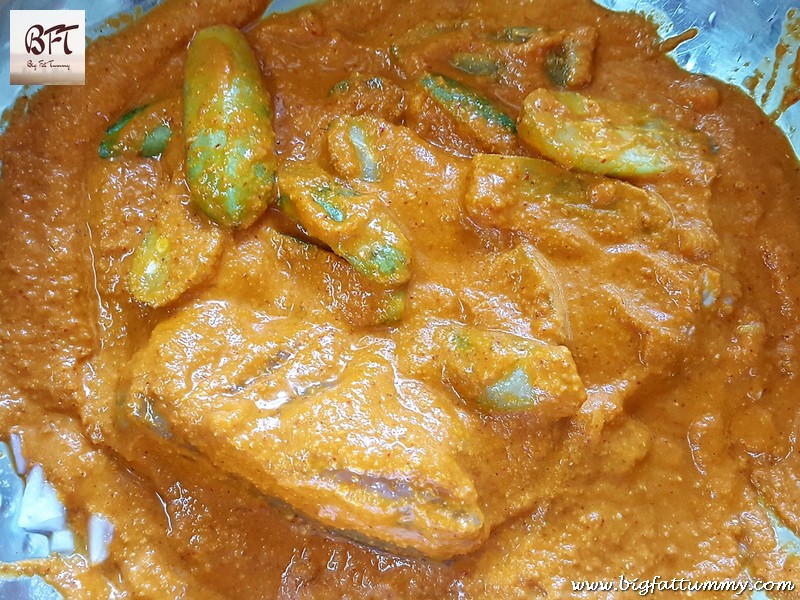 Step 5: Add another ½ cup of water and place the vessel on low heat. Let the curry simmer till the bilimbis turn soft (around 15 minutes).
Step 5: Check for salt and add if required. Then add the thick coconut milk and simmer on low heat without allowing the curry to come to a boil (stir in between) for another 2 to 3 minutes.
Step 6: Add the green chillies, cover and switch off the heat. Leave for 5 minutes before serving.