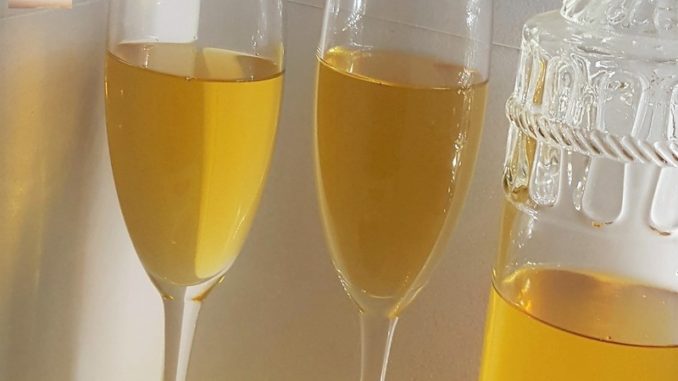 The Pineapple wine is an easy to make homemade wine. It turns out semi-dry with a hint of the spices used. This wine takes absolutely no effort to make and will definitely give you a kick 😆 Some cheesy starter will perfectly compliment the wine.
Ingredients:
Pineapple (peeled, cut into small cubes) – 1 (750 gms)
Sugar – 750 gms
Wheat grains – 1 fistful
Cloves – 2 to 4
Cinnamon – 1 to 2 inch
Yeast (instant, see note) – ½ tbsp.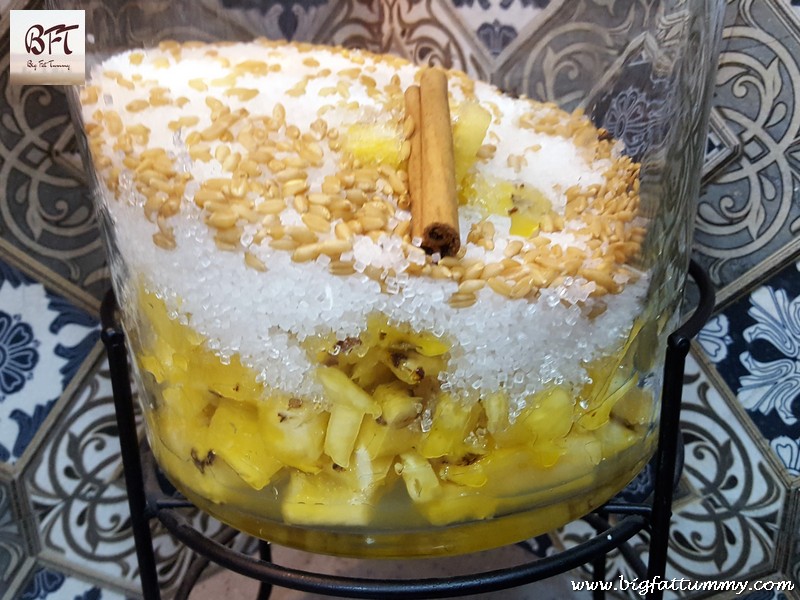 Step 1: Boil 1350 ml water for 20 + minutes and then let it cool to lukewarm.
Step 2: Take a glass or ceramic jar and wash with hot water. Dry the jar in the sun.
Step 3: Place all the ingredients except the yeast into the jar. Pour the lukewarm water into the jar and stir with a clean wooden spoon.
Step 4: Then add the yeast and mix well. Cover the mouth of the jar with a clean cloth and tie it at the neck with some string.
Step 5: Stir the contents of the jar once daily at a fixed time for 7 days. You will see the ingredients roaming around in the liquid during this phase. This means that the fermentation is active.
Step 6: Do not stir the ingredients of the jar after the seventh day. Leave it undisturbed for another 7 days.
Step 7: On the 15th day, strain the wine. Squeeze all the remains to get all the liquids out. The wine will be cloudy. Hence leave it undisturbed for a few hours.
Step 8:     Transfer the semi-clear slightly hazy wine to sterile bottles and leave the bottles aside for at least another 5 to 7 days undisturbed, so that the fine particles settle (although you can get drunk immediately :))
Notes:
While making larger or smaller quantities, use 450 ml of water and 250 gms sugar for every 250 gms of pineapple.
If using active yeast, activate the yeast. Use ¼ cup warm water and a 1 tsp. sugar. Dissolve the yeast in it and leave aside for 10 to 15 minutes.
While filling the bottles, do not fill to the brim. Keep 2 to 3 inches of space empty.
You can also ferment the wine in a plastic jar. But make sure the jar is food grade and wash it well to remove any chemical residue.
Best had when kept to mature in a bottle for 2 to 3 weeks in a dark place. Serve chilled.