If you eat shark fish, you'll love making these cutlets. It will be damn easy getting the flesh off the bone. And even if some in your family do not eat shark you can cheat them into eating the shark fish cutlet because no one will be able to guess what fish. And of course they taste yum too!
Serves: 4 Persons
Prep. Time: 10 Mins.
Cooking Time: 20 Mins.
Ingredients:
Shark – 400 gms (cleaned)
Potato (boiled & peeled) – 1 medium
Kashmiri Red Chilly Powder – 1 tsp.
Garam Masala Powder – ½ tsp.
Chilly Powder – ¼ tsp.
Turmeric Powder – ¼ to ½ tsp.
Black Pepper Corns – 8 to 10
Green Corriander Leaves (chopped) – 2 tbsp.
Lime – 1 small or as needed
To be ground to a paste:

Ginger – ½ inch
Garlic – 6 cloves
Light Green Chillies – 2

Egg (lightly beaten with 1 tbsp. water) – 1
Salt – ½ tsp. or to taste
Oil – 3 tbsp.
Step 1: Apply salt to the cleaned and washed shark fish and keep aside for 15 minutes.
Step 2: Later boil the shark with the black pepper corns in 200 ml water for 10 minutes.
Step 3: When the fish has cooled down, debone and flake.
Step 4: Add the Kashmiri red chilli powder, turmeric and garam masala powders and the ground paste. Squeeze in the juice of the lime and mix it all up well.
Step 5: Mash the potato and add to the mixture. Finally add the green corriander. Mix well. Divide into 10 to 12 portions and shape them into cutlets.
Step 6: Heat 3 tbsp. oil in a pan. Dip each cutlet in the beaten egg and shallow fry on medium heat till light golden.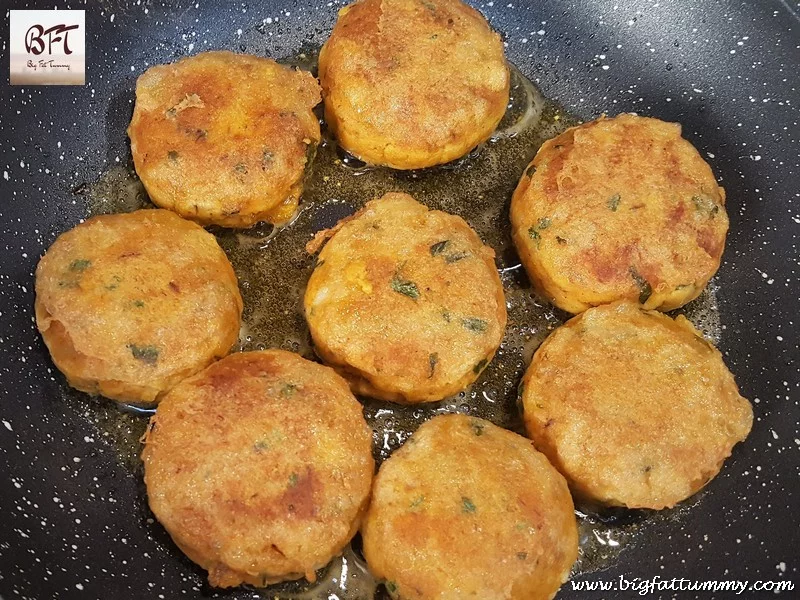 Note:
You could add some finely chopped onion too.
Leave the fried cutlets on a plate of paper towels for a few minutes to soak off extra oil.