The Bohra Muslim Community has presence in the western parts of India and hence as I am now placed in Mumbai, I have had opportunity to relish some of their preparations. The Bohri Mutton Cutlet is a very good snack. The cutlets are juicy and soft and could make good tiffin fillers too as they taste just as good hot or cold.
Pieces: 12
Prep. Time: 20 Mins. + Marination
Cooking Time: 20 to 30 Mins.
Ingredients:
Mutton Mince – 500 gms
Garlic – 10 to 12 cloves
Ginger – 1 inch
Green Chillies – 3 to 4
Green Corriander (finely chopped) – 3 tbsp.
Corriander Powder – 1 tbsp.
Cumin Powder – 1 tsp.
Red Chilli Powder – 1 tsp.
Garam Masala Powder – ½ tsp.
Pepper Powder – 1 tsp.
Turmeric Powder – ½ tsp.
Bread Slices – 5
Milk – ½ cup
Eggs – 3
Limes – 2 small
Rawa [Semolina] – ½ cup or as required
Oil – for shallow frying
Salt – 1 tsp. or to taste
Step 1: Grind the garlic, ginger and green chillies to a fine paste. Wash the mince and drain well in a fine mesh sieve.
Step 2: Remove the edges of the bread slices and discard. Soak the bread whites in the milk.
Step 3: Transfer the mince into a bowl and add all the powdered masalas, salt, the ginger-garlic-chilli paste and juice of the limes and mix all of this well.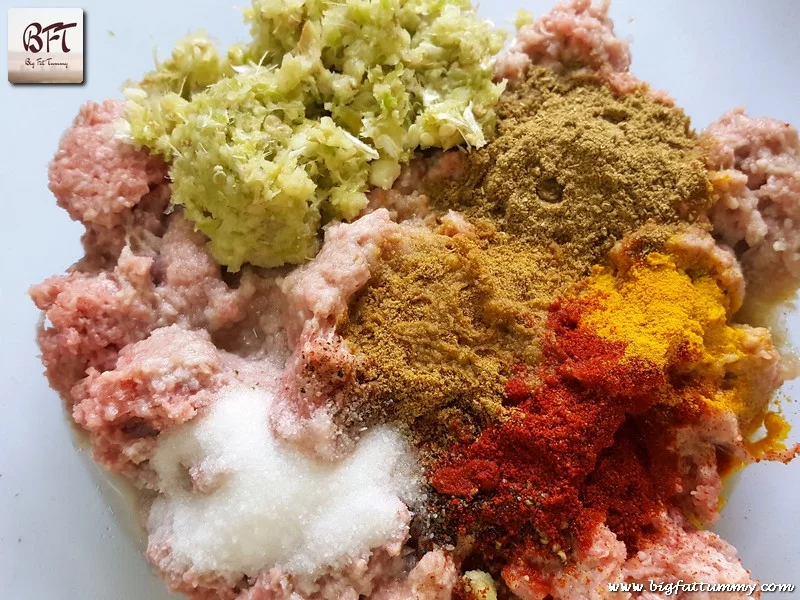 Step 4: Transfer the mixture into a mixer jar and grind for 2 to 3 short pulses so that the mixture is very fine (See pic. below – on the left is the texture before grinding and on the right after). Transfer back to the bowl and add the chopped green corriander, soaked bread and 1 beaten egg and mix well. Leave to marinate for 30 minutes to 3 hours in the refrigerator. When you want to fry the cutlets, remove the marinated meat from the refrigerator and leave aside to come to room temperature.
Step 5: Break the remaining two eggs and separate the whites from the yolk. Beat the whites till frothy with a wire whisk and then add the yolks and whisk again. Season with salt and mix well. Transfer to a shallow bowl.
Step 6: Spread the rawa on a flat plate. Take a small quantity of the mince and mould it into a table tennis sized ball. Flatten this ball into a ½ cm. thick cutlet with the help of you palms and lay on a plate lined with kitchen towels.
Step 7: Coat the cutlet on both sides with the rawa and then dip in the beaten egg before placing it in the oil of a hot frying pan. Shallow fry the cutlets with a generous amount of oil for 3 to 4 minutes on each side on low heat. Do this for all the marinated mince till all your cutlets are ready.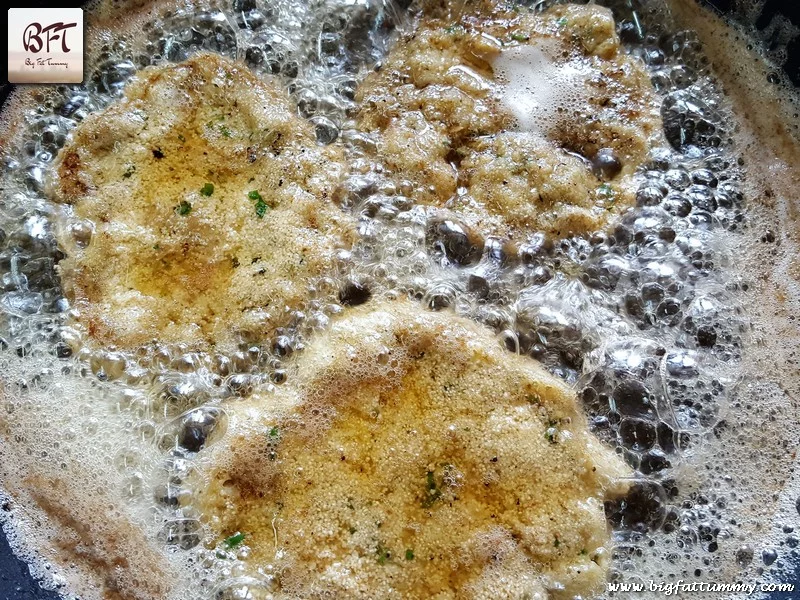 Note:
The cutlets need to be handled carefully while coating with the rawa or the eggs. Use the fingers of both hands to offer them support, else they will break apart.