The Goan raw papaya prawn curry is made with raw or semi-raw papayas and prawns. The curry is prepared with fresh coconut milk. The gravy turns out sweet, creamy and lightly spiced and can be eaten with rice or sannas (Goan rice dumplings)
Serves: 6 to 8 Persons
Prep. Time: 30 Mins.
Cooking Time: 25 to 30 Mins.
Ingredients:
[Standard Measure – 1 cup = 200 ml.]
Papaya (raw/semi-raw – peeled & cubed) – 700 gms.
Prawns (peeled & cubed) – ½ cup
Coconut (grated) – 1 medium coconut
Onion (finely chopped) – 1 medium
Tomato (finely chopped) – 1 medium
Garlic (peeled & finely chopped) – 4 cloves
Green Chillies (slit) – 3 to 4
Turmeric Powder – 1 tsp.
Corriander Seeds – 1 tbsp.
Cumin Seeds – 1 tsp.
Oil – 1 tbsp.
Salt – 1 tsp. or to taste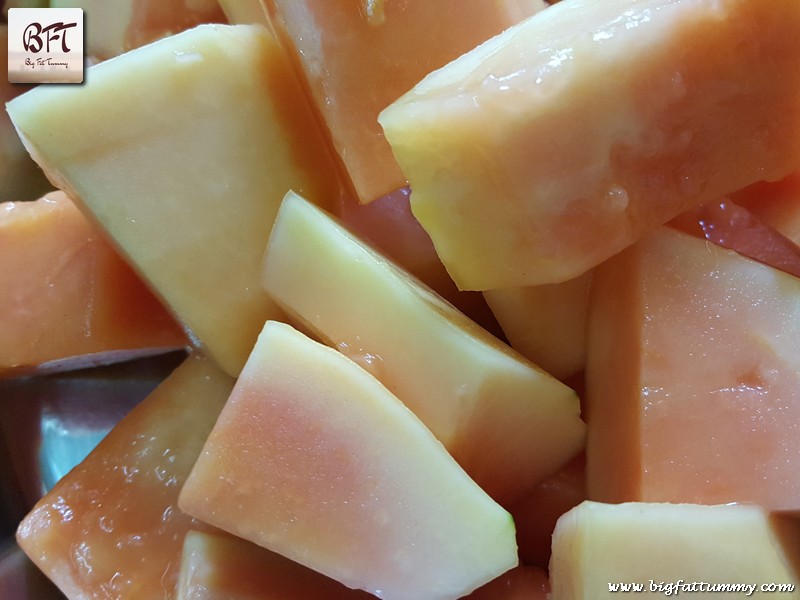 Step 1: Grind the coconut with the turmeric powder and corriander and cumin seeds with 1 ½ cup and extract the thick spiced coconut milk. Next extract the thin spiced coconut milk with 2 cups water.
Step 2: Heat oil in a pan and add the onions and garlic and sauté on medium heat till soft. Add the chopped tomatoes and sauté for a few seconds. Cover and cook on low heat for 2 minutes for the tomatoes to turn soft.
Step 3: Add the prawns and sauté for a minute or two. Then add the thin coconut milk and let it come to a boil on medium heat. When it starts boiling add the papaya pieces and salt and cook covered on low heat for 12 to 15 minutes till the papaya is cooked (don't overcook as the papaya will turn mushy). Check for salt and add if required.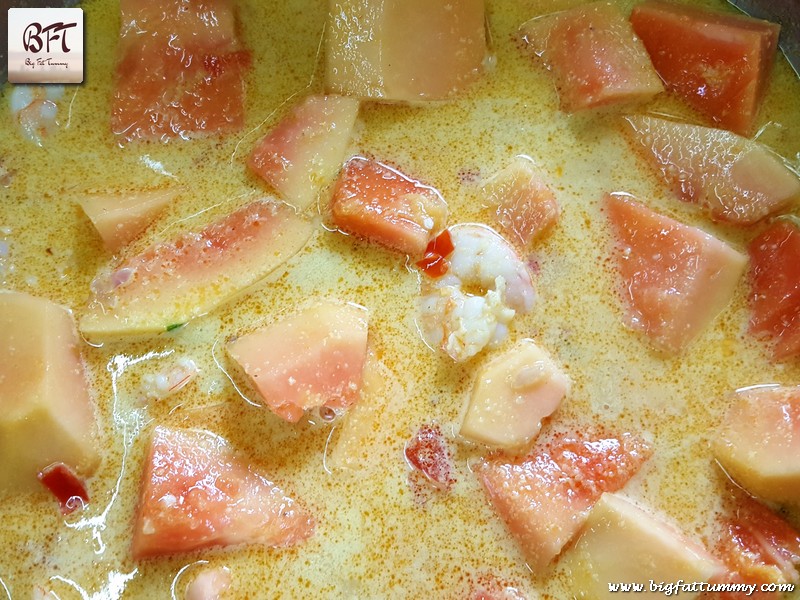 Step 4: Add the thick coconut milk and green chillies and cook uncovered on low heat for a further 5 minutes. Stir once or twice in between (the gravy should not come to a boil).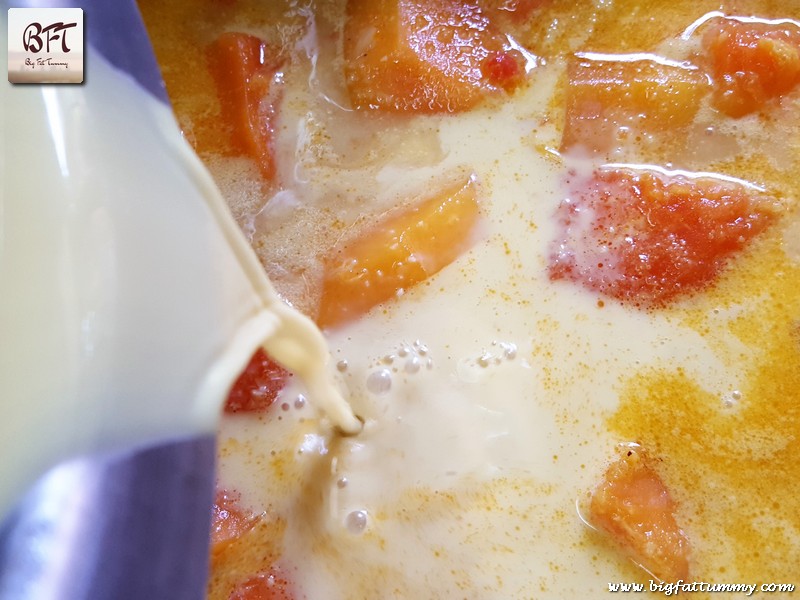 Note:
You can use a small stock cube for additional flavor.