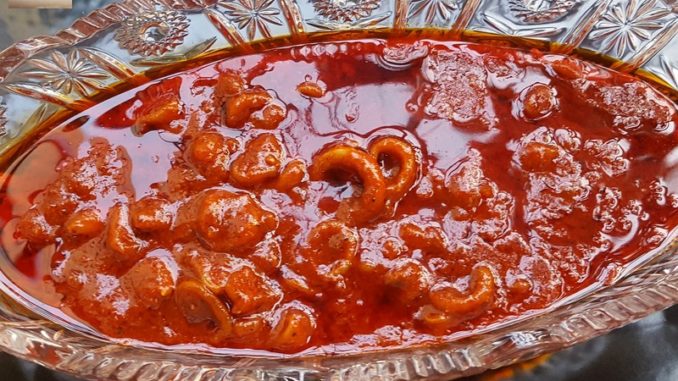 Molho is a sweet-tangy-spicy fish pickle. It can be stored without refrigeration for about 2 months if topped with a layer of oil. Besides Squid Molho, I also do one with King Fish and another with Prawns. The recipe for these are also posted on this website.
Yield: 1200 gms (approx.)
Prep. Time: 40 Mins.
Cooking Time: 60 Mins.
Ingredients:
Squids (cleaned, cut into rings) – 750 to 800 gms
Onion (finely chopped) – 3 medium (optional)
Toddy Vinegar – 400 ml. or to taste
For the Masala Paste:

Kashmiri Red Chillies (stemmed & broken) – 25 to 28
Ginger (peeled) – 2 inch
Garlic (peeled) – 12 cloves (medium sized)
Cloves – 12
Black Pepper Corns – 20
Cinnamon – 2 inch piece
Cumin Seeds – 1 tbsp.
Turmeric Powder – ½ tsp.

Granulated Sugar – 400 to 500 gms
Oil – 400 ml
Salt – 2 ½ tsp. or to taste
Step 1: Wash the squid rings and strain them using a fine sieve. Use a clean muslin cloth and dry them. Apply 1 tsp. salt to the washed and dried squid rings and keep aside for 30 minutes (see notes below).
Step 2: Boil and cool about 100 ml water. It will be needed to grind the masala.
Step 3: Dry grind the chillies till powdered (helps to make a fine smooth masala). Then add all the remaining ingredients for the masala and grind to a fine smooth paste using 200 ml vinegar and 50 ml boiled and cooled water. Keep aside.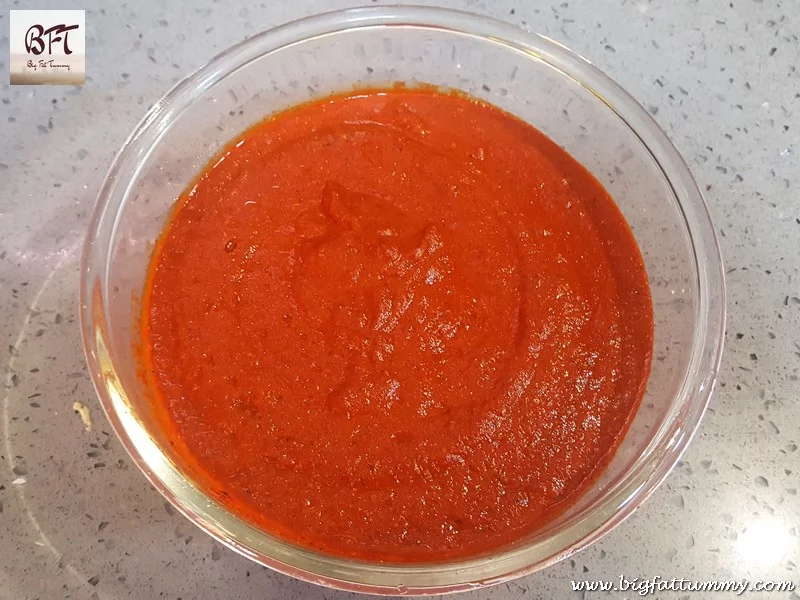 Step 4: Heat 200 ml oil in a pan. When the oil is hot, take a few squid rings in a frying net and release it slowly into the oil. Use the net to press over the squids to reduce spluttering of oil. (see note). Fry for 2 minutes and then remove. Do this for all the rings. Keep aside.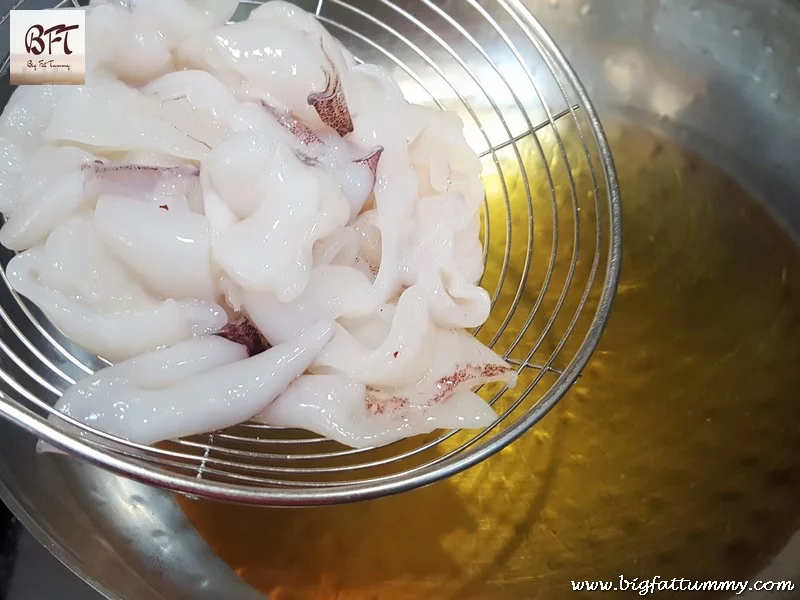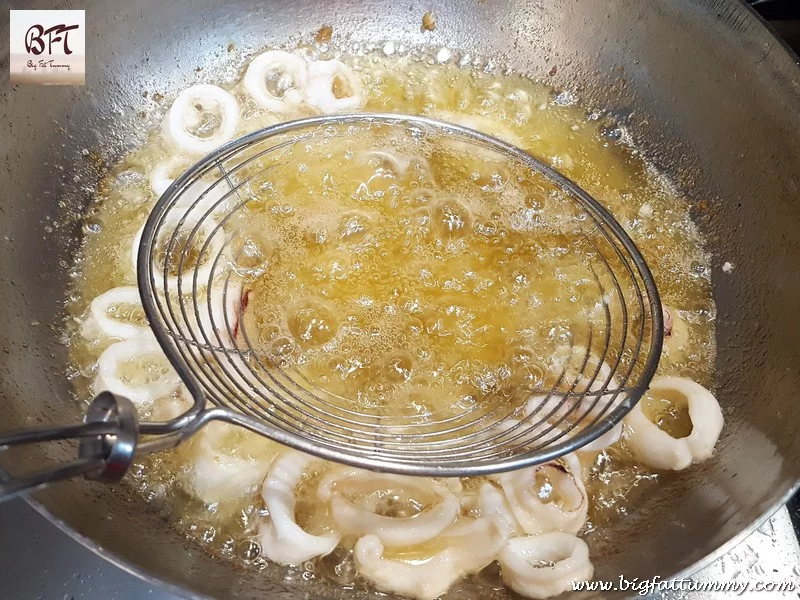 Step 5: Transfer the oil left in the pan to a non-stick pan and add the remaining 200 ml of oil. Place on heat and when hot add the onion and fry till golden on medium heat.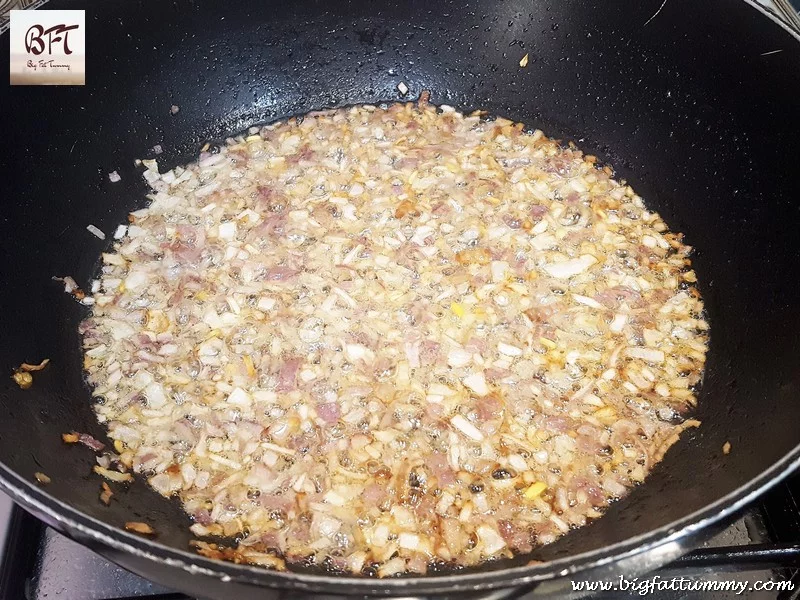 Step 6: Add the spice paste and cook on low heat for 8 to 10 minutes stirring continuously (make sure you do not burn the masala).
Step 7: Then add the sugar and cook on low heat whilst stirring continuously till the sugar melts and the oil floats on top.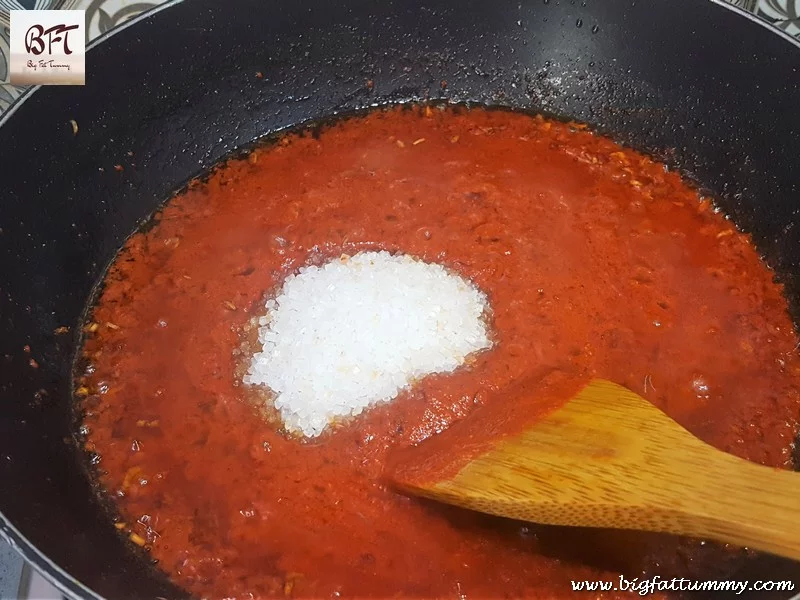 Step 8: Add the remaining 200 ml of vinegar, 1 tsp. salt and mix for 2 minutes. Add the fried squids and mix lightly. Continue cooking on low heat for another 10 minutes. Check for sugar, salt, sourness and adjust accordingly. Then cool completely and store in a sterile glass bottle topped with the oil. Preserve for 2 to 3 weeks before eating.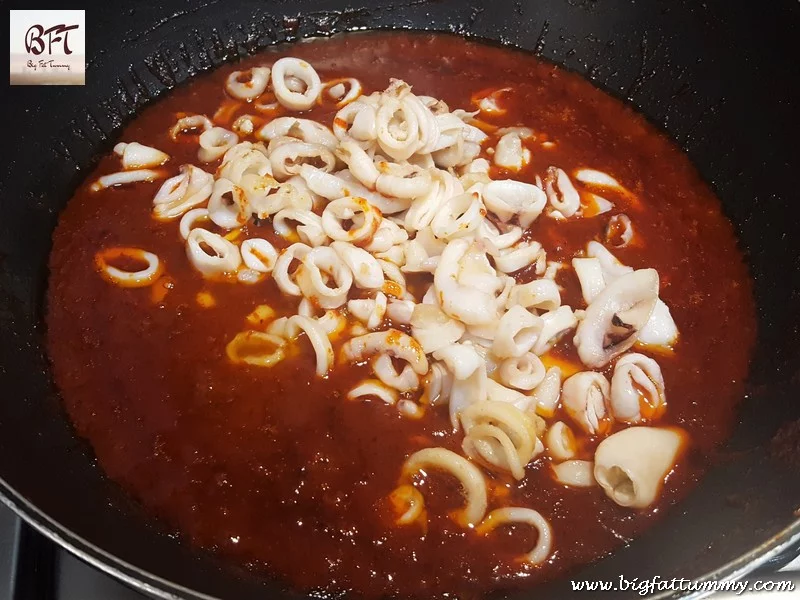 Notes:
Be careful when deep frying the squid rings. The oil will splutter. If you are not confident, you can also shallow fry the squids.
The Molho can be stored in the refrigerator for a longer shelf life.