Nankhatai is an easy to make shortbread biscuit. The ingredients for the nankhatai need to be kneaded and not whisked. How your nankhatai turn out, depends on how well you knead the dough. You can use a stand mixer (the easiest method) or a food processor with the dough kneading blade and at a very low speed. You also crumble (rub in) the ingredients with your palm till the dough is formed.
Yield: 24 Cookies
Prep. Time: 5 Mins. (Stand Mixer) OR 15 Mins. (Manually)
Baking Time: 20 Mins.
Ingredients:
Maida [APF] – 500 gms
Powdered Sugar – 250 gms
Hydrogenated Vegetable Oil [Vanaspati – pref. Dalda] – 250 gms
Cashew Nut (broken) – as needed (optional)
Tutti Frooti (for decoration) as needed (optional)
Salt – ¼ tsp.
Step 1: Take all the ingredients in your stand mixer bowl and knead at a low speed (Alternately use a food processor with dough attachment or knead with your palm. Do not use a hand blender or whisk). The dough should be well mixed with an even texture. Cover the dough and leave aside for 4 hours.
Step 2: Later, take a heaped table spoon of the dough in the palm of your hand and make a ball. Flatten the ball and a broken piece of the cashew nut in the center and remould into a ball. Flatten it slightly. Place on a baking tray lined with parchment paper and top the ball with piece of tutti frooti. Do this till you exhaust all the dough.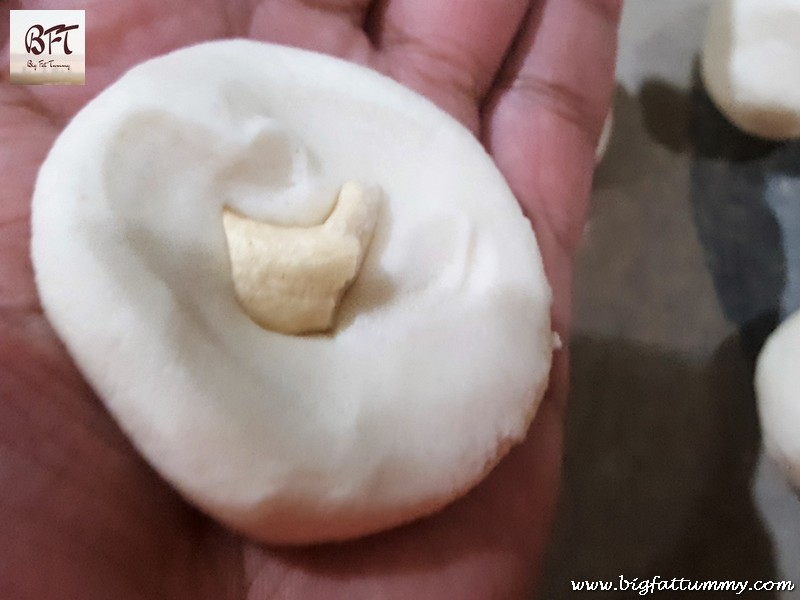 Step 3: At some time in between, when you are making the balls, set your oven to preheat for 15 minutes at 200°c. When you are done making all the balls and your oven has preheated, put the tray into the oven and bake at 200°c for 20 Mins. When done take them out of the oven and allow to cool on a wire rack.