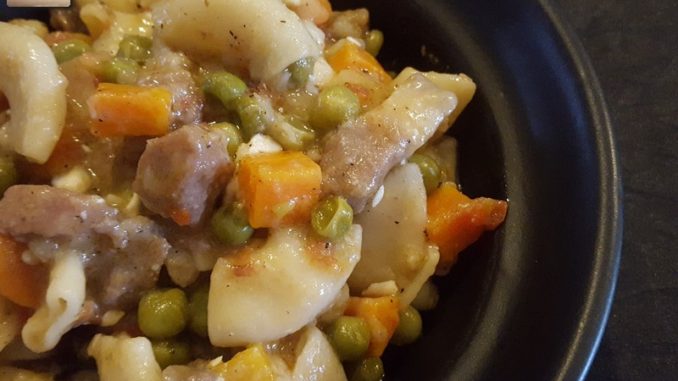 One more dish that turns my boys into drooling puppies. This is my version of the Goan Pork Stew which can be served as a complete meal. You could serve it with some garlic bread slices or eat it as is.
Serves: 6 to 8 persons
Prep. Time: 20 Mins. + 2 hrs. to overnight (marination)
Cooking Time: 20 Mins. (active) + 60 Mins. (passive)
Ingredients:
Boneless Pork (cut into small pieces) – 750 gms.
Carrots (cubed) – 1 cup
Potato (small cubes) – 1 big
Peas (shelled) – 1 cup
Onions (finely chopped) – 3 medium
Tomatoes (finely chopped) – 2 big
Ginger-Garlic Paste – 1 tbsp.
Cloves – 10
Cinnamon – 3 inch
Cardamom – 4
Black Pepper Corns – ½ tsp.
Pepper Powder – ½ tsp.
Bay Leaf – 1
Stock Cube – 1 small
Butter – 1 tbsp.
Cheese (grated) – 1 small cube
Macaroni (elbow) – 1 cup
Whole Wheat Flour (atta) – 1 tbsp.
Oil – 2 tbsp.
Sea Salt – 1 ½ tsp.
Step 1: Apply salt to the cut meat, mix and marinate in the refrigerator for 2 hours or overnight.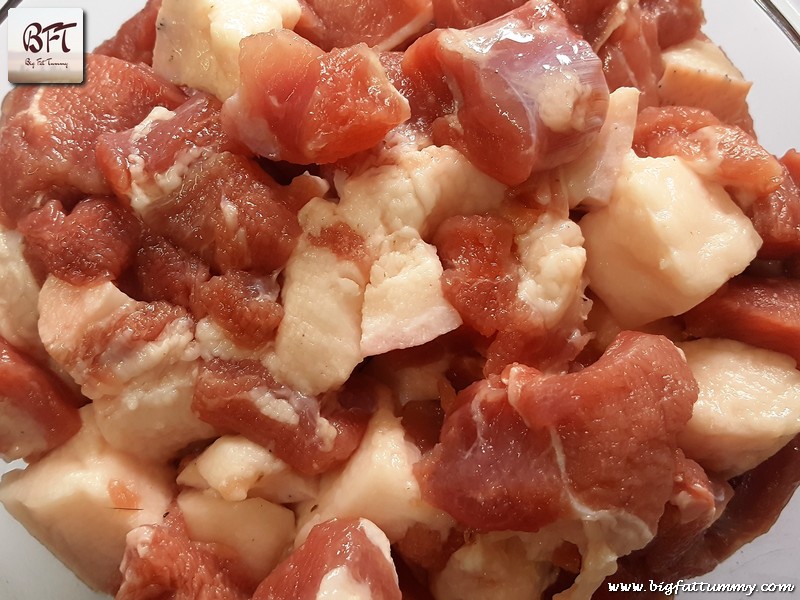 Step 2: Take the meat in a pressure cooker and sauté on high heat for 5 minutes. Add 1 cup water, cover the pressure cooker with the lid and continue cooking on low heat till 1 whistle. After one whistle, cook on low heat for a further 10 minutes.
Step 3: In a big vessel, heat the oil and add cardamoms, cloves, cinnamon, bay leaf and peppercorns and sauté for a minute. Add the onions and sauté till translucent.
Step 4: Add the ginger-garlic paste and saute for 2 minutes. Add the tomatoes, mix and cook covered on low heat for 12 to 15 minutes. Stir in between. Add the chopped vegetables, peas and saute for 2 to 3 minutes.
Step 5: Add the boiled pork along with the stock. Mix and then add 1 cup warm water. Crumble the stock cube and add to the pan. Cover and cook on low heat for 30 minutes till the vegetable and meat is tender.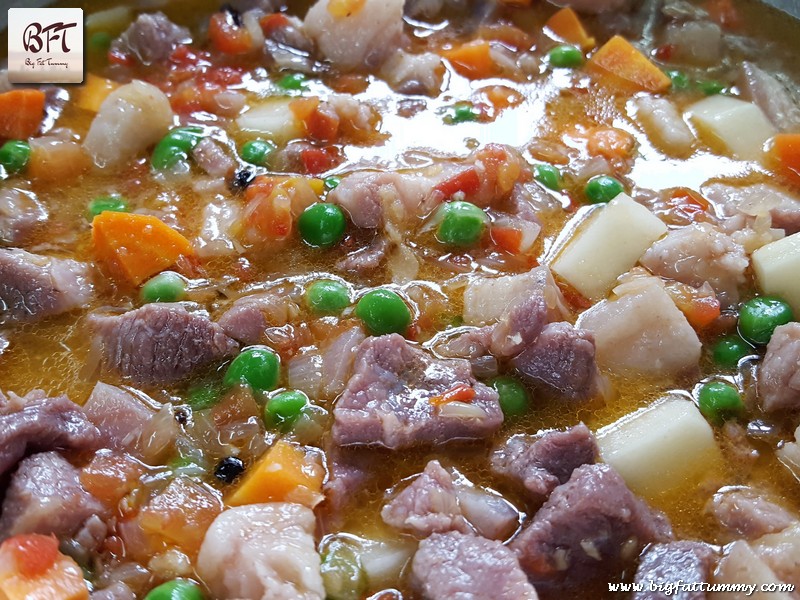 Step 6: In the meantime, bring 1.5 litres of water to a boil. Add the macaroni and cook till it is ¾ done. Drain and keep aside.
Step 7: When you are done with step 5, add the macaroni to the meat. Mix and cook covered for 10 minutes.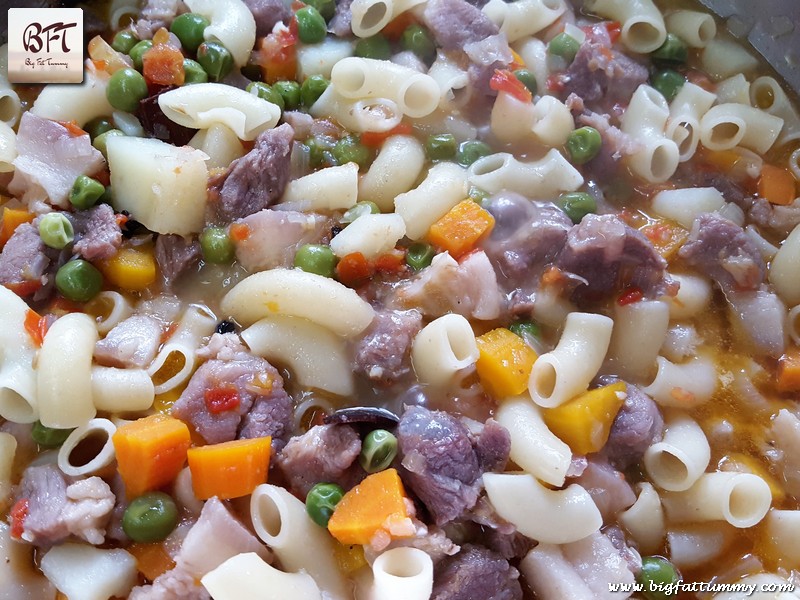 Step 8: Dissolve the flour in 3 tbsp. of water to make a paste. Add this to the stew, mix and cook for 5 minutes.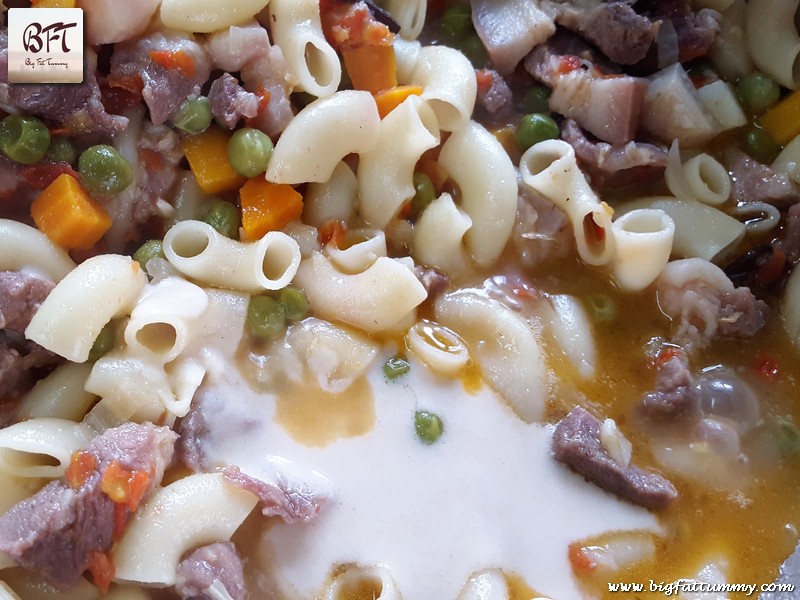 Step 9: Add the butter, grated cheese, pepper powder and mix. Cook covered for a further 3 minutes on low heat.