If you love your seafood, you'll be infatuated with the Sea Food Stew. A one pot meal with prawns, squids, crabs and vegetables, the Sea Food Stew is perfect for dinner time with some garlic bread and a glass of Chardonnay. 😀
Serves: 4 to 6 Persons
Prep. Time: 30 Mins.
Cooking Time: 55 to 60 Mins
Ingredients:
Prawns (cleaned & deveined) – 200 gms
Squids (cleaned) – 200 gms
Crab Meat / Crab Sticks – 50 gms
Macaroni (pref. shell shaped – Conchiglie ) – 150 gms
Onions (finely chopped) – 3 medium
Tomatoes (finely chopped) -2 medium
Potatoes – 300 gms (2 big)
Carrots – 150 gms (2 medium)
Green Peas – 50 gms
Veg Stock Cubes (dissolved in 400 ml hot water)– 2 small
Pepper Masala Powder (see here) – 1 ½ tsp.
Soda-bi-carbonate – a pinch
Cheese – 1 cube grated
Butter – 3 tbsp.
Oil – 3 tbsp. + ½ tsp.
Salt – 4 tsp.
Step 1: Cut the prawns into smaller pieces and the squids into rings. Apply 1 tsp. salt to them and keep aside.
Step 2: Peel and cube the potatoes and carrots. Soak the potato cubes in water (so that they don't discolour).
Step 3: Boil sufficient water in a pot / vessel and once it starts boiling, drain and add the potato cubes and 1 tsp. salt. Cook the potato cubes for 8 to 10 minutes on medium heat. Then strain the potatoes out of the water and place under running water for a few seconds. Keep aside.
Step 4: In the same pot with the hot water, add the cubed carrots. Cook on medium heat till done (6 to 8 minutes, cooked but firm). Strain out and keep aside. Then add the peas to the same water and a pinch of soda-bi-carb. Cook for 6 to 8 minutes and then strain and keep aside.
Step 5: Bring 3 litres of water to a boil with the 1 tsp. salt and ½ tsp. oil in a deep vessel. When the water starts boiling, add the pasta and stir so that it does not stick to each other. Cook for 10 to 12 minutes (Also read the instructions on the packaging of the pasta you are using). Strain and keep aside.
Step 6: Heat 1 tbsp. of butter in a frying pan and sauté the prawns and squids on medium heat for two minutes. Remove and keep aside. Take another table spoon of butter in the same pan and add the crab sticks. Sauté for 5 minutes on low heat and keep aside.
Step 6: Heat 3 tbsp. oil in a pot/vessel in which you want to make the stew. Sauté the garlic and onions on medium heat till the onions turn soft. Add the tomatoes and mix. Cover and cook on low heat till the tomatoes turn soft. Stir in between.
Step 7: Add the pepper masala powder and sauté for a few seconds on low heat. Then add the boiled vegetables. Add the 400 ml of the stock and cook covered on low heat for 5 minutes.
Step 8: Now add the cooked macaroni and cook for another 5 minutes.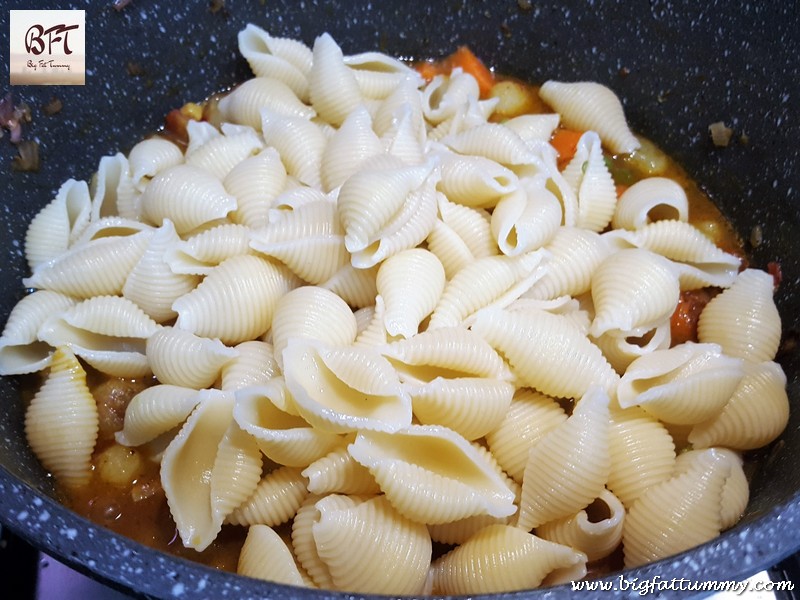 Step 9: Add the sea food and mix well. Add the remaining butter and grated cheese and cook covered for another 5 minutes. Serve with a sprinkling of freshly ground pepper.