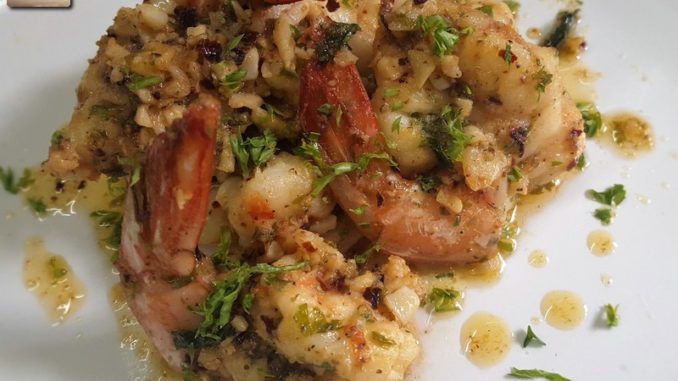 A great starter to serve over drinks, the marriage of prawns and garlic is timeless. You will need to keep it coming as it is going to go quick off the plate. That means you'll spend more time next to your stove. But it will be worth the effort when you get heaps of praises on serving these butter garlic prawns.
Serves: 2 Persons
Prep. Time: 10 Mins…. + 15 Mins…. (marination)
Cooking Time: 10 to 12 Mins…. (active)
Ingredients:
Large Prawns – Butterflied (see here) – 6
Garlic (finely chopped) – 1 tbsp.
Lime – ½
Parsley – 1 ½ tsp.
Chilly Flakes – ¼ tsp.
White Pepper Powder – ¼ tsp. + a pinch
Butter (herbed or salted) – 25 gms..
Olive Oil – 1 tsp.
White Wine – 2 to 3 tbsp.
Salt – ½ tsp.
Step 1: Marinate the prawns with salt, lime juice, ¼ tsp. white pepper powder, garlic, half of the chilly flakes, 1 tsp. parsley and 1 tsp. olive oil. Leave aside for 15 minutes.
Step 2: Melt the butter in a pan on low heat. Toss the marinated prawns in the pan on high heat for 30 seconds. Reduce the heat to medium and cook for 3 to 4 minutes.
Step 3: Splash the white wine in the pan and continue cooking for another 3 to 4 minutes. Season with a pinch of white pepper powder, chilly flakes and the remaining parsley. Turn off the heat and keep covered for 2 minutes before serving.
Serve this flavoursome starter hot.
Note: I have used herbed butter in the this recipe.