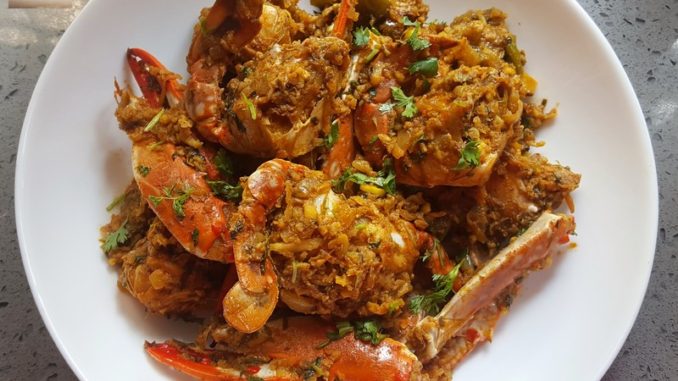 Crab Masala Sukkem is a mildly spiced and tangy dry preparation of crabs. The dish also has some sweetness because of the use of coconut. The crab masala sukkem is served as a side with rice. The sukkem is also made with various other fish and you will find some variations on this site itself. Just do a search with the keyword 'Sukkem'.
Serves: 4 Persons
Prep. Time: 20 Mins. (soaking)
Cooking Time: 25 to 30 Mins.
Ingredients:
[Standard Measure: 1 cup = 250 ml]
Crabs – 5 to 6 med. sized
Coconut (grated) – ½ cup
Onion (finely chopped) – 2 medium
Green Chillies (finely chopped) – 2 to 3
Garlic (finely chopped) – 8 to 10 cloves
Green Corriander Leaves (finely chopped) – 5 tbsp.
Kashmiri Red Chilly Powder – 1 tsp.
Turmeric Powder – ¼ tsp.
Garam Masala Powder – 1 tsp.
Jeera Powder – ¼ tsp.
Corriander Powder – ½ tsp.
Tamarind (soaked in ¼ cup hot water) – 1 small marble sized ball
Sugar – ¼ tsp.
Oil – 2 tbsp.
Salt – ½ tsp. or to taste
Step 1: Wash the crabs thoroughly under running water to remove all traces of sand or dirt particles.
Step 2: Heat 2 tbsp. oil in a pan and add the garlic and sauté for a few seconds on medium heat. Then add the green chillies and sauté for 30 seconds. Next, add the onion and sauté for a minute. Switch to low heat.
Step 3: Add 2 tbsp. of the chopped corriander leaves and continue sautéing on low heat till the onion is translucent.
Step 4: Add all the powdered masalas and cook for another minute on low heat. Then add the cleaned crabs and claws. Add another 2 tbsp. of green corriander and mix well. Add the tamarind pulp and grated coconut, sugar and salt and mix lightly.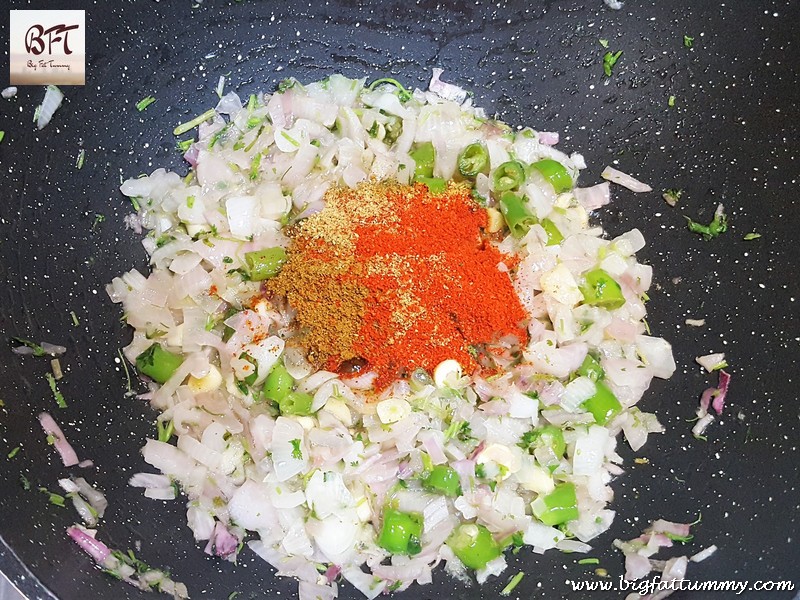 Step 5: Cook covered for 12 to 15 minutes on low heat till the crabs are done. Garnish with the remaining 1 tbsp. of corriander.