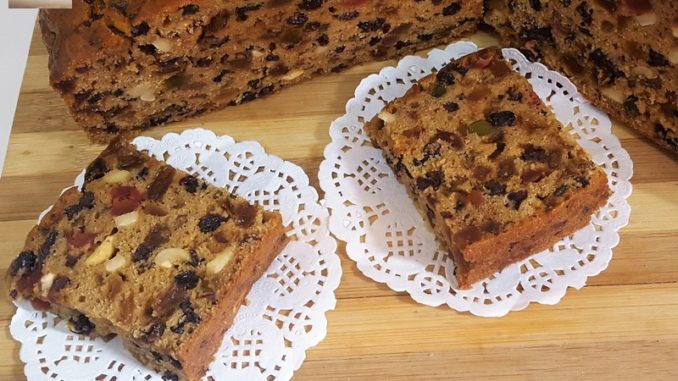 The Brandy Fruit Cake is an easy to make cake similar to a rum cake, but requires no soaking of the fruits in the liquor for a period of time. It also needs no whisking or beating. It's a great cake to serve at breakfast, or after dinner with a mug of coffee. Packed with fruit and not too heavy like the rum cake, it can be eaten as a snack also – no occasion needed.
Yield: 1 ½ Kg. (approx.)
Prep. Time: 40 Mins. + 1 Hour (standing)
Baking Time: 60 to 70 Mins. (active + passive)
Ingredients:
Self-Raising Flour – 150 gms
Maida [APF] – 150 gms
Eggs – 3
Cashew Nuts (broken into bits) – 50 gms
The Mix:

Raisins (seedless, chopped into two) – 200 gms
Currants (seedless, chopped into two) – 200 gms
Glace Cherries (chopped into four to six pieces) – 100 gms
Candied Papaya [Tooti Frooti] – 100 gms
Demerara Sugar – 170 gms
Cinnamon Powder – ½ tsp.
Cardamom Powder – ¼ tsp.
Nutmeg Powder – ¼ tsp.
Brandy – 125 ml
Water – 125 ml
Salted Butter – 124 gms
Soda-bi-carb – 1 tsp.
Salt – ¼ tsp.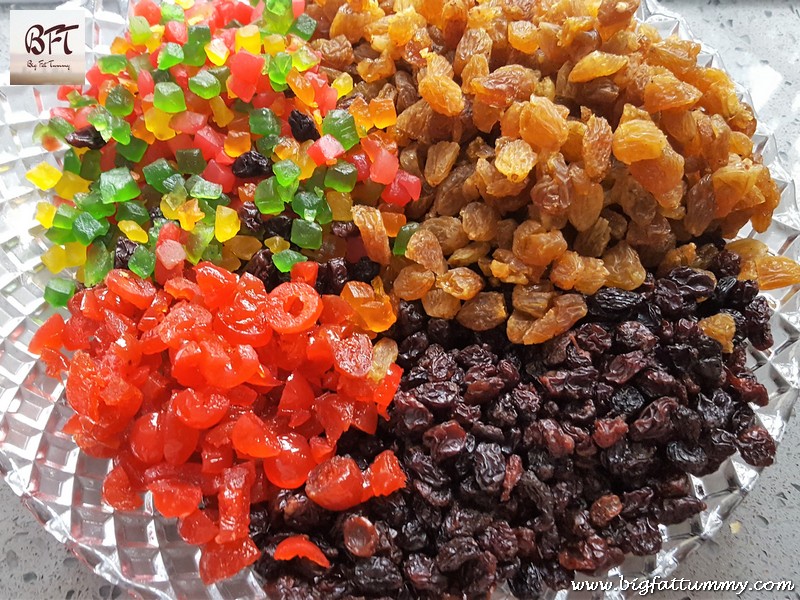 Step 1: Mix all the ingredients listed under 'The Mix' in a saucepan. Place the saucepan over medium low heat. Stir occasionally. Lift the pan off the heat as soon as the mixture comes to a boil (a layer of bubbles will form on the top). Transfer to a glass bowl and keep aside for 40 to 60 minutes to come to room temperature.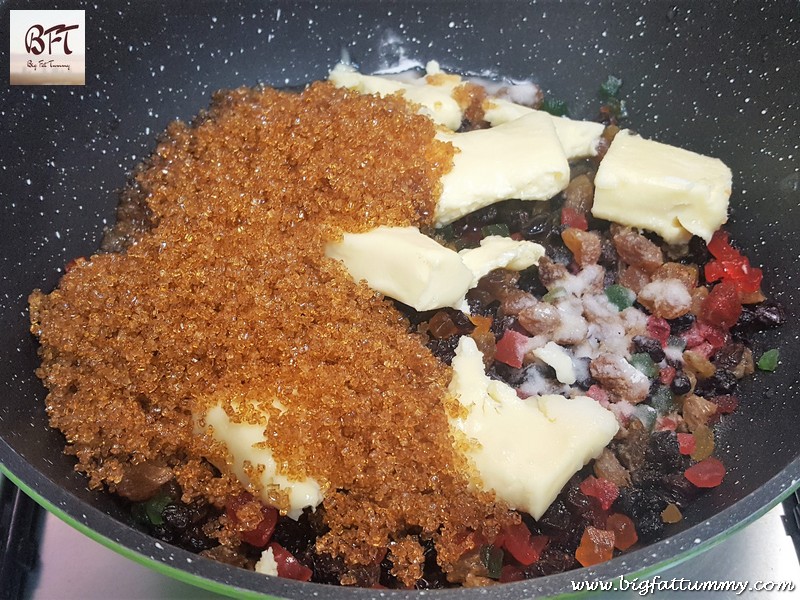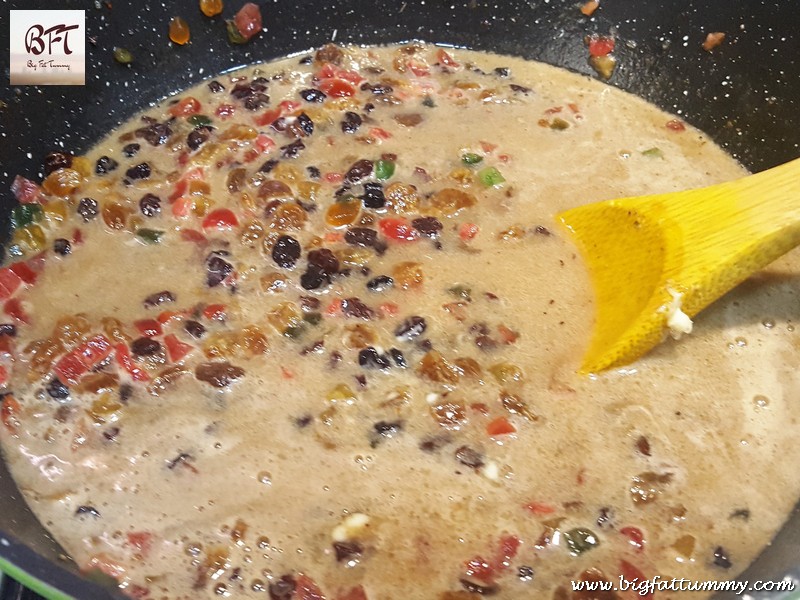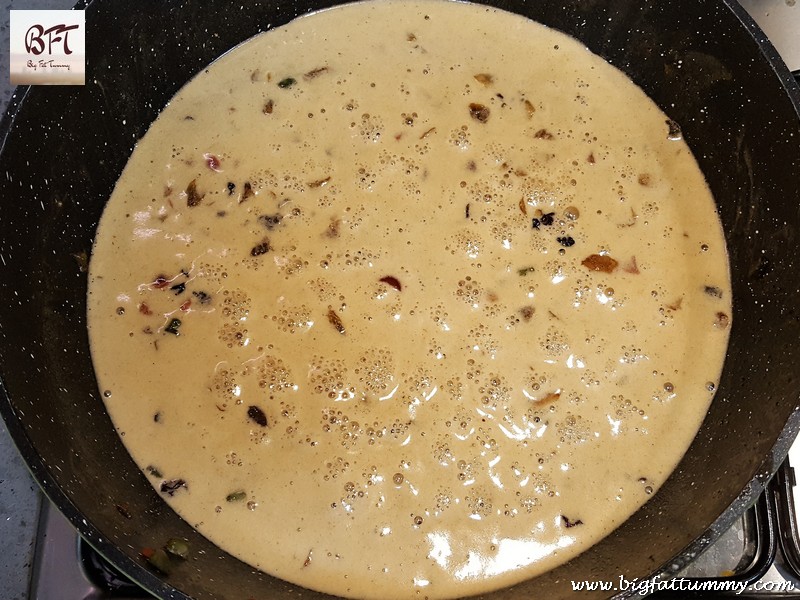 Step 2: Line a baking tray (8 x 8 x 2 inches ) with 2 layers of parchment paper at the bottom and 1 layer on the sides. The layer on the side should be cut a little broader so that it is taller than the side of the tray (see pic). Adjust the oven rack to the lower half so that the cake bakes in the center. Set to pre-heat at 160° c.
Step 3: Meanwhile, mix the maida and self-raising flour. Sieve and keep aside. Beat the eggs lightly. Keep aside.
Step 4: Add the cashew nuts to the cooled 'Mix' followed by the eggs. Stir to mix with a wooden or silicon spatula. Add the flour in three batches and mix it in with a wooden spoon.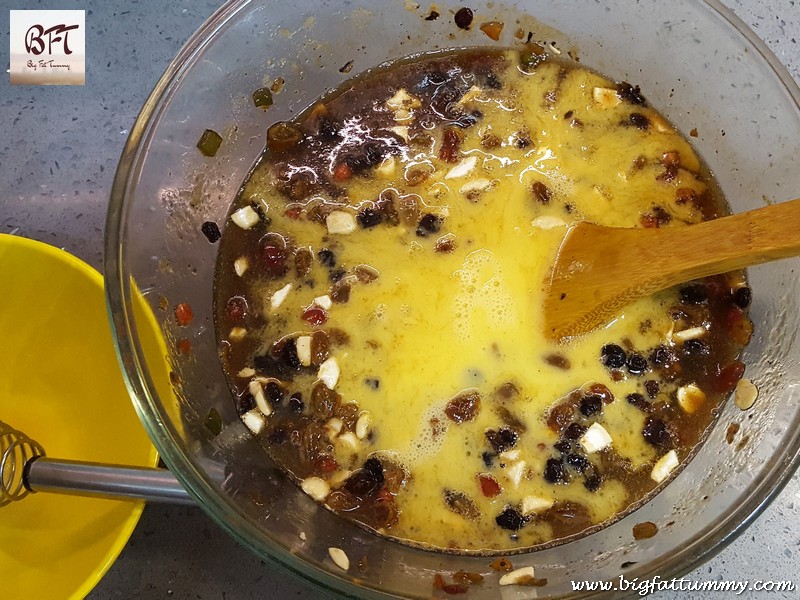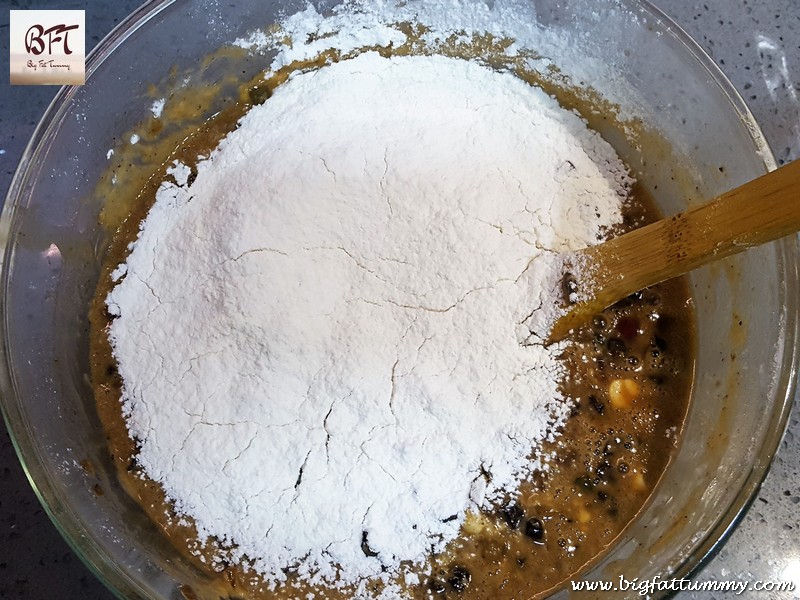 Step 5: Pour the mixture into the baking tray and smoothen with the spatula. Bake for 60 minutes at 160° c. After 60 minutes, insert a knife in the center of the cake and see if it comes out clean. If it does not, bake for a further 5 to 10 minutes (baking time depends on your type of oven).