Fish aficionados love the overpowering flavour of the head of fish. And eating it is to some extent an acquired taste. This is also the bony part of the fish and eating it requires expertise. When you buy an entire large Kingfish, the head and tail is mostly used in a curry, like I've done here. And the rest of the sliced fish is either fried or also used in a curry (you will find various fish curries and fried fish recipes on this site). But you can also make a dry version called the Kingfish Head & Tail Sukkem.
Serves: A Family of Four
Prep. Time: 10 Mins. + 30 Mins. (marination)
Cooking Time: 25 Mins.
Ingredients:
[Standard Measure – 1 cup = 200 ml]
Kingfish Head & Tail Portion (cleaned and cut into pieces) – 650 gms.
Onion (sliced) – 3 big
Coconut (freshly grated) – ¼ cup
Green Corriander Leaves (chopped) – 2 to 3 tbsp.
Ginger-Garlic Paste – 1 tsp.
Red Chilly Powder – 1 tsp.
Meat Masala / Garam Masala – 1 tbsp.
Turmeric Powder –
Tamarind (soaked in ½ cup warm water) – 1 medium lime sized ball
Oil – 3 to 4 tbsp.
Salt – 1 ½ tsp. or to taste
Step 1: Wash the fish pieces and drain well. Apply the salt, red chilly powder and turmeric to the fish pieces and keep aside for 20 to 30 minutes.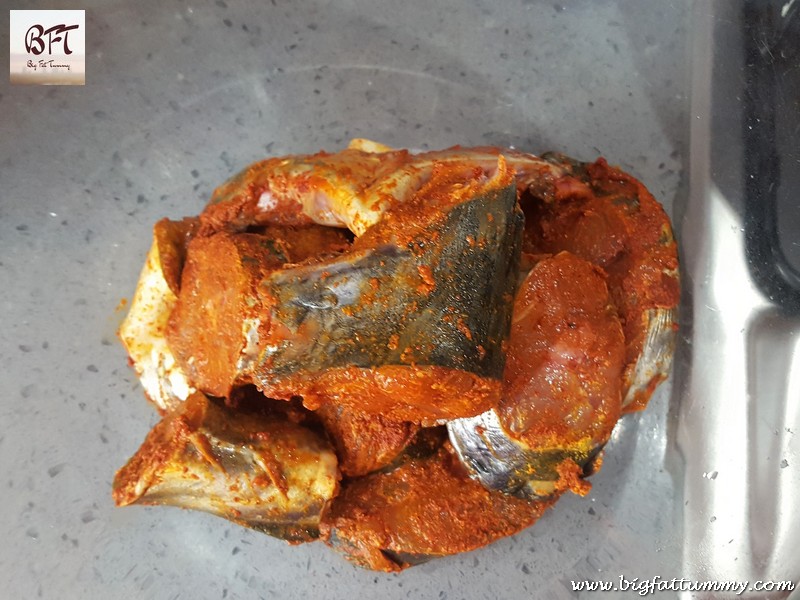 Step 2: Take a deep non-stick pan. Add the sliced onion and sauté on the dry pan for 3 to 4 minutes on low heat. Then add the oil and continue frying till the onion is light golden. [sautéing the onions on a dry pan helps reduce the extra moisture, thereby toasting the onion, adding flavour and helping the onion turn brown quickly]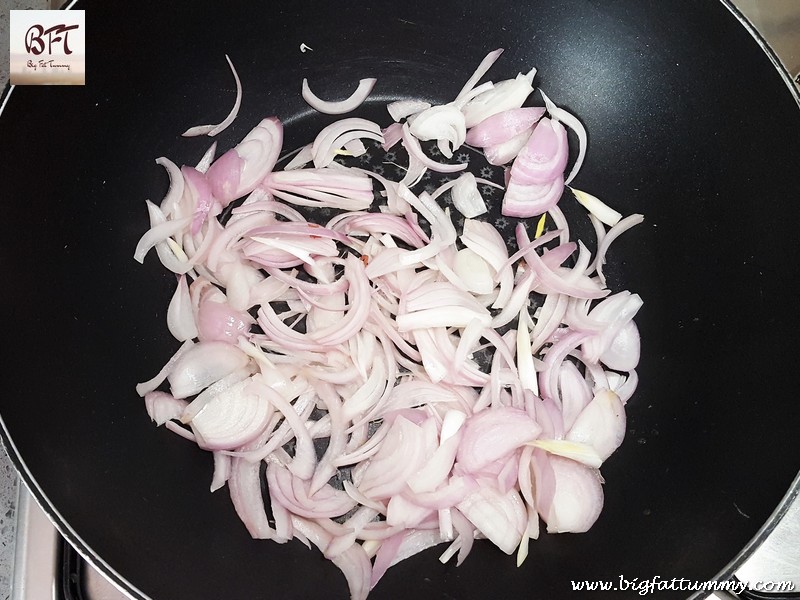 Step 3: Then add the ginger-garlic paste and sauté for a minute or two on low heat. Add the marinated fish and sauté for 2 minutes, gently turning the fish around to mix well. Then add the meat masala / garam masala. Pulp and strain the tamarind into the pan and add ½ cup warm water. Cover and cook on medium heat for 5 minutes.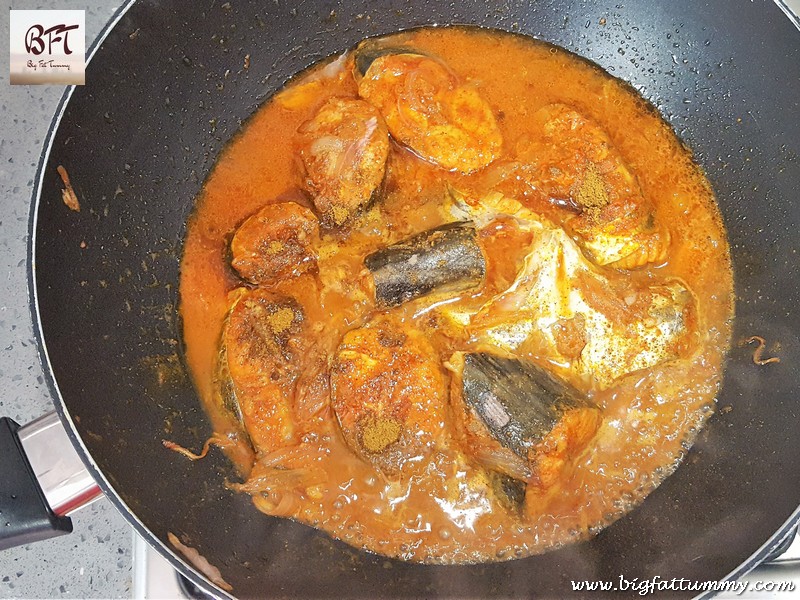 Step 4: Toss in the grated coconut, mix lightly and cook covered for a further 6 to 8 minutes till the fish is cooked. Switch off the heat, sprinkle the corriander and keep covered for another five minutes before serving.