Salting and drying fish is the oldest known way of preserving fresh produce for use when not available, especially in the rainy season when fishing trawlers do not venture into the open seas. So come the rains and people look to their stash of salted fish to satiate their cravings. Eating dry fish is however an acquired taste. If you have eaten since you were young you should have no issues. Also when salted fish is used in combination with some vegetable, it helps in reducing the overpowering taste. In this recipe, I have paired it with the sweet red pumpkin to make a dry preparation. Try this red pumpkin & dry prawns recipe ASAP. And your comments are always welcome.
Serves: A Family of Four
Prep. Time: 30 Mins.
Cooking Time: 20 -25 Mins.
Ingredients:
[Standard Measure: 1 cup = 200 ml]
Red Pumpkin (peeled & cut into cubes) – 350 gms.
Onions (finely chopped) – 2 medium
Green Chillies (finely chopped) – 2 to 3
Small Dried Prawns – ¼ cup or a fistful
Freshly Grated Coconut – ¼ cup
Sugar – ½ tsp. or less (optional)
Oil – 1 ½ tbsp.
Salt – 1 tsp. or to taste
Step 1: Wash the prawns and soak them in 1 cup water for 20 to 30 minutes.
Step 2: Apply ½ tsp. salt to the pumpkin cubes and leave aside for 15 minutes.
Step 3: Heat the oil in a heavy bottomed pan and sauté the onions till soft on medium heat.
Step 4: Add the green chillies and sauté for a few seconds. Then drain the prawns and add to the pan. Stir fry for a minute and put in ¼ cup of warm water. Cover and cook on low heat for 5 minutes.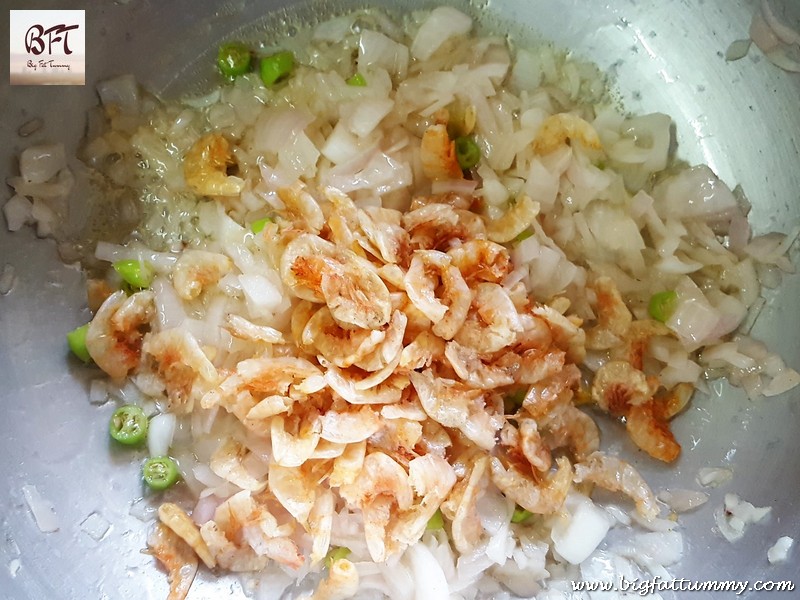 Step 5: Now add the pumpkin pieces, sugar (optional) and salt and cook covered for another 10 minutes till the pumpkin is cooked.
Step 6: Finally sprinkle the grated coconut and cook covered for a minute and then take off the heat. Leave covered till ready to serve. Serve hot.