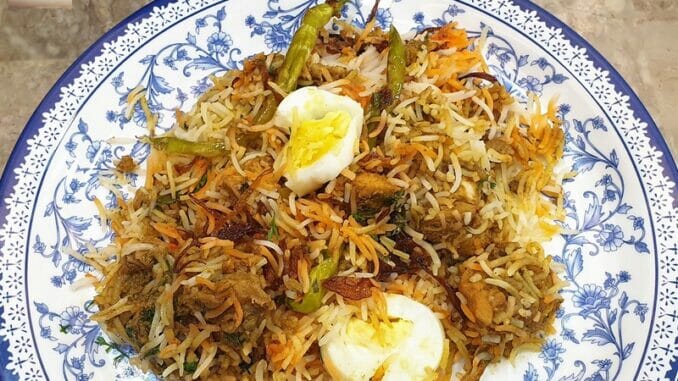 The Chicken Biryani is a go alone concoction served with little or nothing else. You'll find thousands of variations and recipes on the net, in cookbooks and TV shows. There will be a cook – in your family – a near or distant relative, who has enthralled you with their respective version of this dish.
This is 'Yet Another Biryani Recipe'. This is a minor-road alternative, a short cut, but one that still leads you to your destination. Don't be overwhelmed by the steps involved. I'm here to guide you with this simple recipe. Just follow the steps and you're home. You'll also receive loads of compliments later.
Serves: 4 to 6 persons
Prep. Time: 60 Mins. + 1 to 12 Hours (marination)
Cooking Time: 10 Min. (active) + 45 Min. (passive)
1st Marination of Chicken
Ingredients:
Chicken Legs (cut into 2, at the joint)

OR Whole Chicken (chopped) – 750 gms.

Lime Juice – 2 tbsp.
Salt – 1 ½ tsp.
Apply salt and lemon juice to the chicken and leave aside for 15 minutes.
2nd Marination of Chicken
Ingredients:
[Standard Measure: 1 cup = 250 ml]
Curd – 1 cup
Ginger-garlic Paste – 2 tsp.
Biryani Masala (to be roasted & ground to a fine powder):

Corriander Seeds – 1 ½ tbsp.
Cumin Seeds – ½ tsp.
Black Pepper Corns – 8
Cinnamon – ¾ inch
Cloves – 6
Green Cardamom – 1
Fennel Seeds – ¾ tsp.
Star Anise – 4 petals
Mace – ¾ [piece
Nutmeg – ⅛ piece

Chilli Powder – 1 tsp.
Turmeric Powder – ½ tsp.
Birista (fried onions – see here) – 1 cup
Green Cardamom – 4
Cinnamon – 2-inch stick
Cloves – 6
Pepper Corns – 10 to 12
Bay Leaves – 2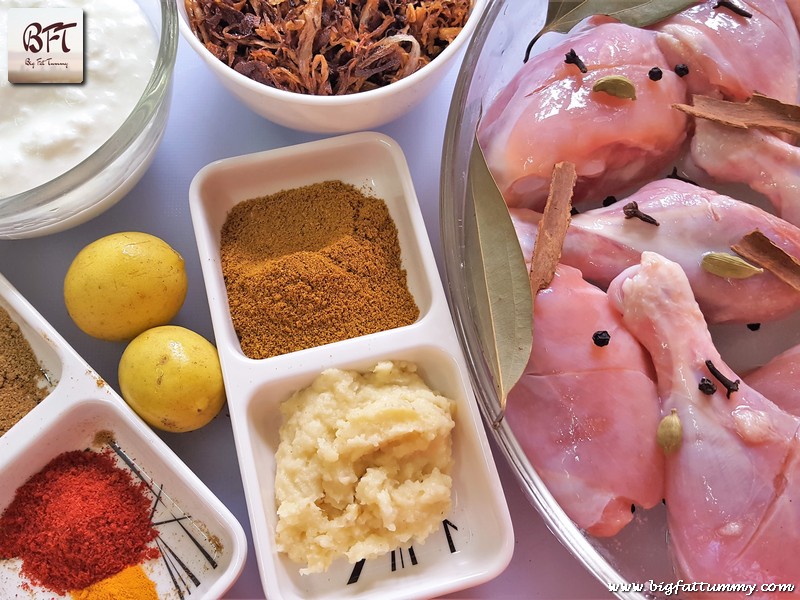 Whisk together the curd and the remaining ingredients except the birista and add to the chicken. Finally add 1 cup birista and mix well. Leave to marinate in the refrigerator for a minimum of 1 hour or overnight.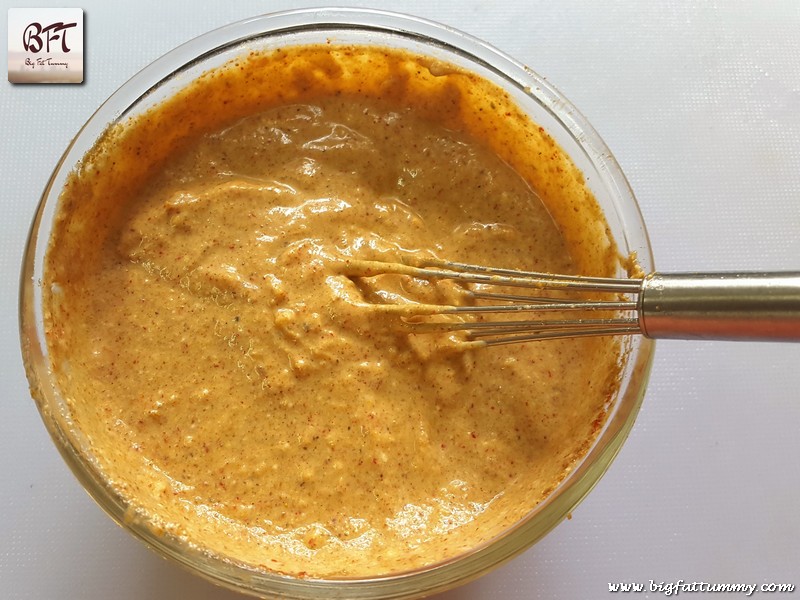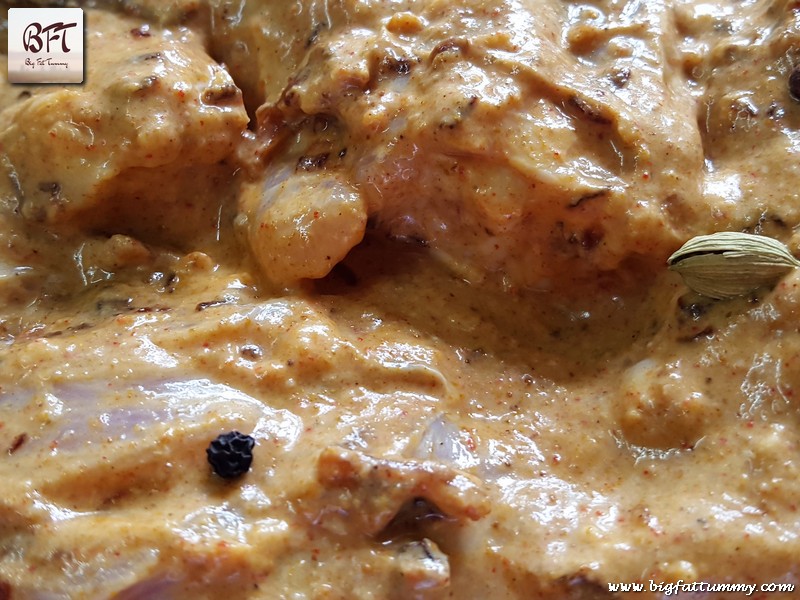 Cooking the Chicken and Assembling the Biryani
Ingredients:
[Standard Measure: 1 cup = 250 ml]
Rice for Biryani (click here) – 400 gms. of raw rice for 750 gms. of chicken
Green Corriander (chopped fine) – 5 tbsp.
Mint Leaves (chopped fine) – 4 tbsp.
Green Chillies (broken) – 3
Green Chillies (slit & fried) – 5
Birista (fried onions – see here) – ¼ cup
Garam Masala Powder – 1 tsp.
Chic. Stock Cube – 1
A few drops of orange food colour (dissolved in ¼ cup milk)
Boiled Eggs (sliced) – 2
Pure Ghee – ¼ cup
Step 1: Prepare and cool the rice for the biryani. Take the marinated chicken from the refrigerator and leave out for 30 minutes for it to come to room temperature.
Step 2: Transfer the marinated chicken into a vessel and cook on medium heat for 5 to 6 minutes. Stir it between so that it does not stick to the bottom.
Step 3: Next add 2 tbsp. of the corriander and all of the mint leaves. Add the broken green chillies and cover and cook on low heat till the meat is half cooked (20 minutes) Add the stock cube and garam masala powder and cook covered for 10 more minutes till the chicken is cooked. Take off the heat.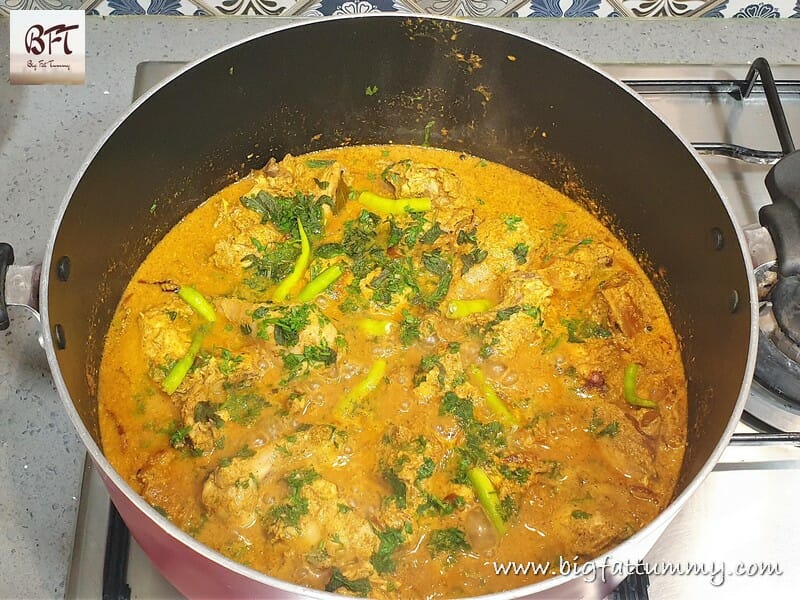 Step 4: Take another large pot / pan and spread half the rice in it. Then layer it with all of the chicken gravy. Sprinkle 2 tbsp. corriander leaves.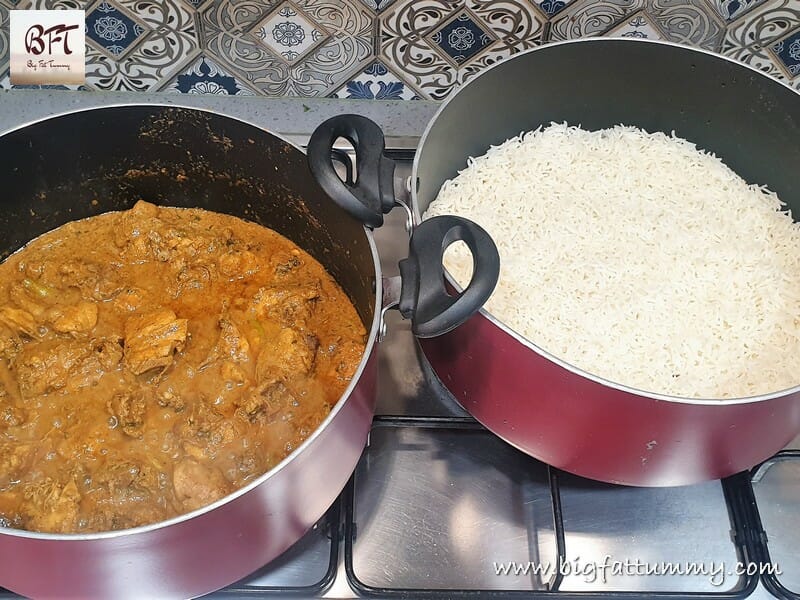 Step 5: Spread the remaining rice in the pot. Dot the rice with the melted ghee. Sprinkle the orange milk . Sprinkle the remaining birista, fried chillies and the corriander. Use foil to seal the top of the vessel and place the lid on top.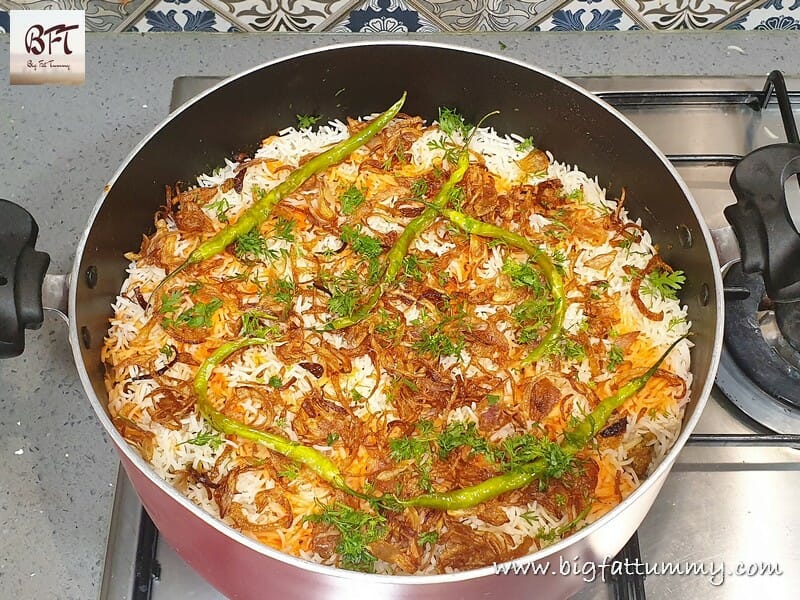 Step 6: Place a flat griddle (tawa) on your stove. Place the vessel containing the assembled biryani on the griddle. We do not want the heat to reach the vessel directly and the griddle will help spread the heat uniformly. Cook on high heat for 5 minutes. Cook for another 25 minutes on low heat till the steam starts escaping.
Step 7: Take off the heat and allow to stand for 10 minutes. Garnish with the sliced boiled eggs. When serving, remember to dig into the pot so that you get equal portions of rice and the gravy.
Serve hot with raita (For a cucumber carrot raita, click here or a boondi raita, here)