A quick to make cabbage recipe, the cabbage channa dal bhaji should be served hot with hot chappatis or as a side dish with rice. The channa dal adds a nice texture to the vegetable.
Serves: 2 Persons
Prep. Time: 10 Mins. + 60 Mins. (soaking)
Cooking Time: 5 Mins. (active) + 35 Mins. (passive)
Ingredients:
Cabbage – 1 medium (350 gms.)
Channa Dal [Bengal Gram] – 2 tbsp.
Green Chillies (slit and cut into 3 pieces) – 1 to 2
Ginger (finely chopped) – ½ inch
Mustard Seeds – ½ tsp.
Turmeric Powder – a very small pinch
Sugar – ½ tsp.
Oil – 1 tbsp.
Salt – ½ tsp.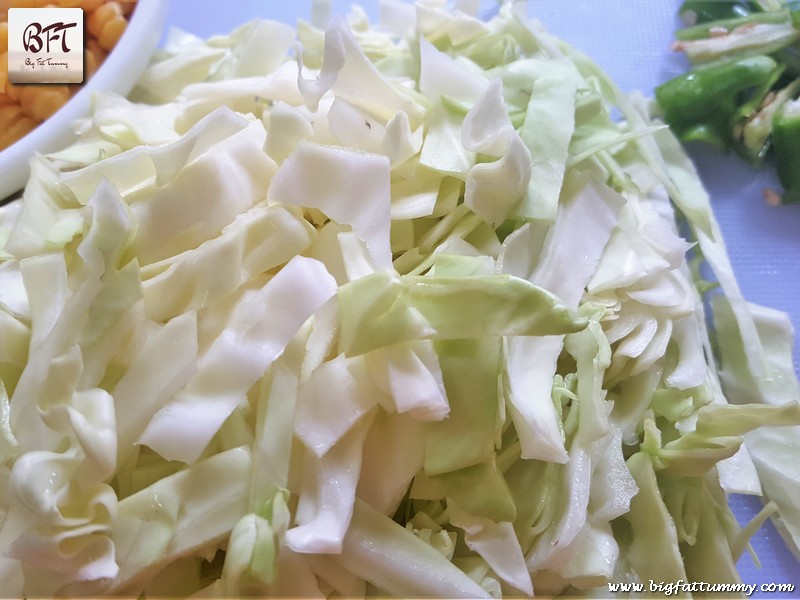 Step 1: Chop the cabbage into 1 cm strips as shown in the pictures.
Step 2: Soak the channa dal in water for an hour. After one hour, boil the dal in enough water and ½ tsp. salt till soft. (about 20 minutes) Drain and keep aside.
Step 3: Heat the oil in a pan and splutter the mustard seeds. Add turmeric, green chillies, ginger and sauté for a few seconds. Next add the cooked dal and sauté for a minute.
Step 4: Add the cabbage, salt and sugar and mix well. Cover and cook on low heat for 12 to 15 minutes. Let the cabbage cook in its own steam. Sprinkle a little water if required. Stir 2 to 3 times in between.