If your children are bored eating sausages, you could introduce the chicken sausage stir fry to them. Serve it to them with bread slices or chappatis. They will love the tangy-sweet-spicy-peppery taste – my children do!
Serves: A Family of Four
Prep. Time: 10 Mins.
Cooking Time: 15 Mins.
Ingredients:
Spicy Chicken Cocktail Sausages – 10
Regular Chicken Cocktail Sausages – 10
Onions (sliced) – 2 large
Green Capsicum (cubed) – 1 medium
Garlic (chopped) – 12 to 14 cloves
Cayenne Pepper Powder / Red Chilli Powder – 2 tsp.
Black Pepper Powder – 1 tsp.
Garam Masala Powder – ½ tsp.
Italian Mixed Herbs – ¼ tsp.
Tomato Chilly Ketchup – ½ cup
White Vinegar – 1 tsp.
Butter – 1 tbsp.
Olive Oil – 2 tbsp.
Salt – ¼ tsp. or to taste
Step 1: Chop the cocktail sausages either into rounds or slanting.
Step 2: Heat the oil and the butter in a pan. Add the chopped garlic and sauté for a minute on medium heat. Add the onions and sauté for 3 to 4 minutes on low heat till pinkish.
Step 3: Add the sausages and stir fry for 2 minutes. Next add the chopped capsicum, sauté for a minute and then add the chilly powder and sauté for another minute.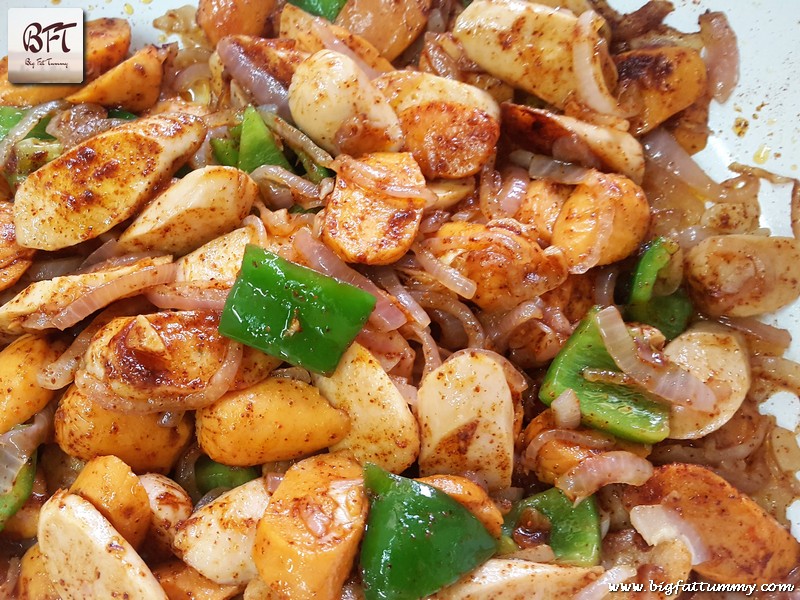 Step 4: Add the ketchup, Italian herbs and pepper, garam masala powders, salt to taste and sauté on low heat for another 2 to 3 minutes.