Usually Goan fish curries are prepared with a ground coconut masala paste. I like to prepare the Goan Pomfret Curry with spiced coconut milk. The curry turns out light and creamy this way. You can enjoy this curry with hot rice. I'm sure you'll like it my way.
Serves: 4 to 6 Persons
Prep. Time: 30 Mins.
Cooking Time: 10 to 15 Mins.
Ingredients:
[ Standard Measure – 1 cup = 200 ml.]
Silver Pomfret – 1 medium sized (350 gms)
Onion (finely chopped) – 1 medium
Green Chillies Slit – 2 to 3
For the Spiced Coconut Milk:

Coconut (grated) – 1 ½ cups
Tamarind – 1 small marble sized ball
Jeera [Cumin] Seeds – ½ tsp.
Corriander Seeds – 2 tsp.
Garlic – 2 cloves
Kashmiri Chillies (deseeded) – 6
Turmeric – 1 tsp.

Oil – 1 tbsp.
Sugar – ½ to 1 tsp.
Salt – 1 ½ tsp. or to taste
Step 1: Clean and wash the fish and slice it. Apply 1 tsp. salt and keep aside.
Step 2: Grind all the ingredients for the spiced coconut milk to a fine paste with 2 ½ cups water. Extract the spiced coconut milk from the ground masala paste using a fine mesh sieve. [see how to here]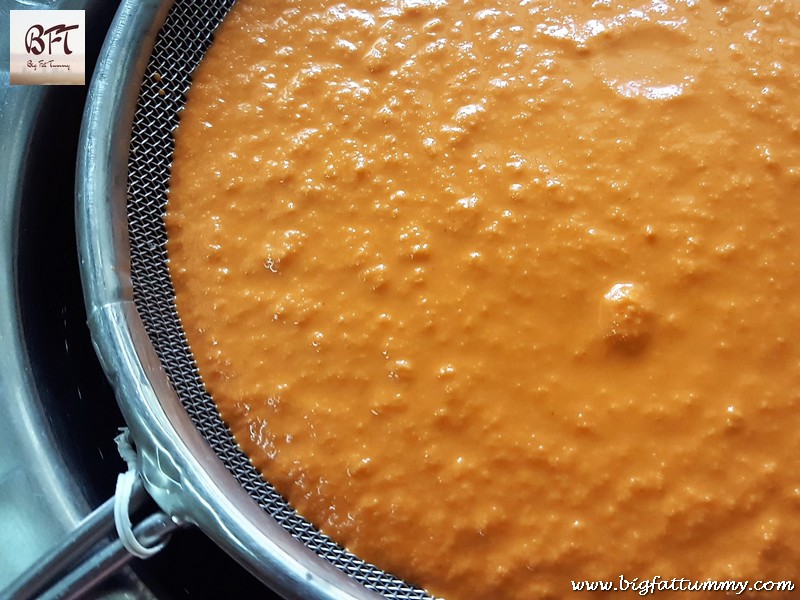 Step 3: Heat 1 tbsp. oil in a vessel and fry the onion till soft. Add the spiced coconut milk, sugar and ½ tsp. salt and bring it to a boil on medium heat.
Step 4: Once the curry starts boiling, add the fish. Half cover the vessel and let it cook on medium heat for 3 to 4 minutes. Next, pick up the pan with your kitchen cloth and give it a swirl so that the curry runs over the fish. Do not use a ladle to stir the fish.
Step 5: Place the vessel on the heat and check for salt, add if required. Cover and cook on medium heat for a minute. Switch off the heat and garnish with the green chillies. Keep covered for 15 minutes before serving.
Tips:
Grinding on an electric stone grinder gives a creamier curry.
If using a mixer, grind it short batches so that the mixer jar does not heat up.