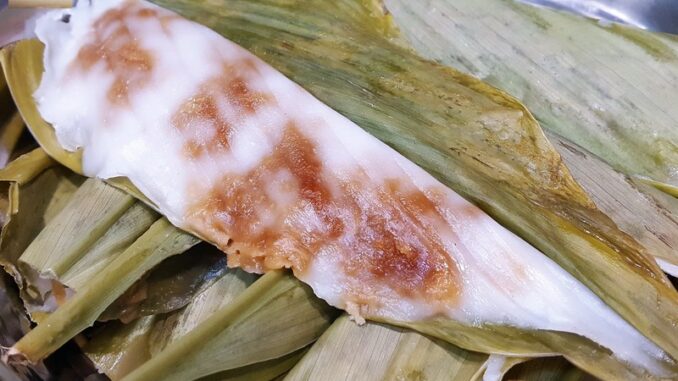 Patoleo / Pattoyo V.2. is a quicker but alternate method to make the coconut-jaggery stuffed rice dumplings. This method is good when you do not have the Goan red rice available and also when you are short of time. The traditional method needs overnight soaking of rice and so this recipe will come in handy to make quickly. However, it is important you use only basmati rice flour. I derived this idea from the Maharashtrian Modaks which are made during the festival of Ganesh Chaturthi. This is a delicious melt in the mouth version. Click here for the traditional version.
Yield: 6 to 8
Prep. Time: 15 to 20 Mins
Steaming: 20 Mins
Part I – Making of the Rice Dough
Ingredients:
[ Standard Measure : 1 cup = 250 ml ]
Basmati Rice Flour – 1 cup
Pure Ghee – 1 tbsp.
Salt – ¼ tsp. + a pinch
Step 1:     Bring 2 cups of water to a boil and add the salt. Switch off.
Step 2:     Take the basmati flour in a bowl and add the boiling water to it. Stir with a spoon till all the flour comes together and a dough is formed.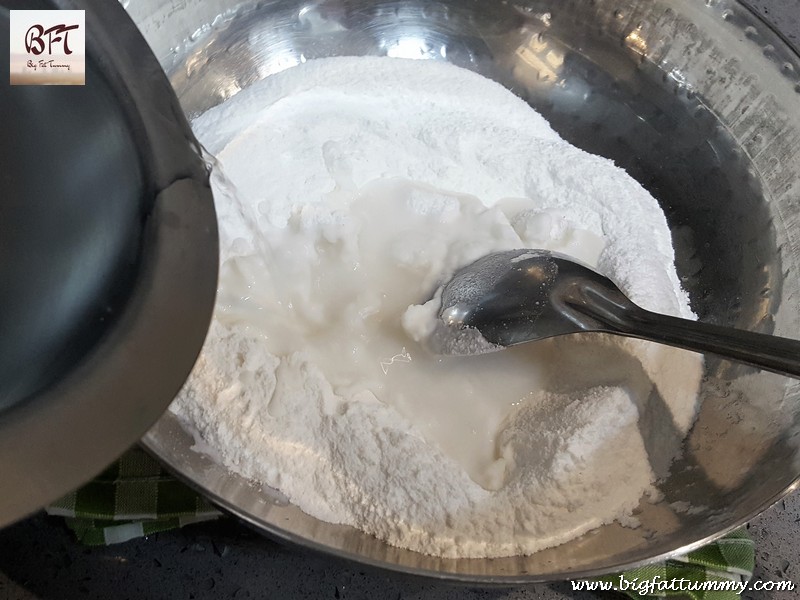 Step 3:     Take the dough out of the bowl and knead with the ghee to form a smooth dough. Keep aside.
Part II – Assembling the Patoleos
Ingredients:
Turmeric Leaves – 7 to 8 medium (12 inches)
Use any one of these fillings as in the pics below: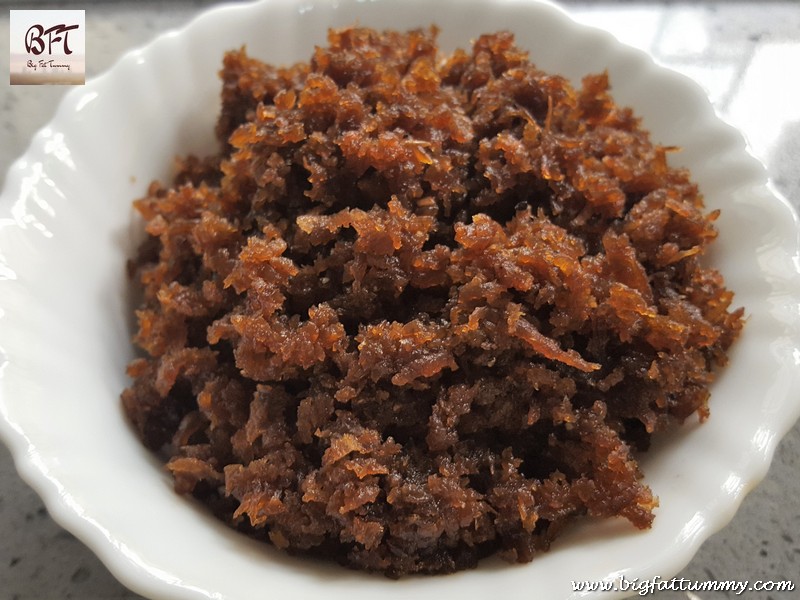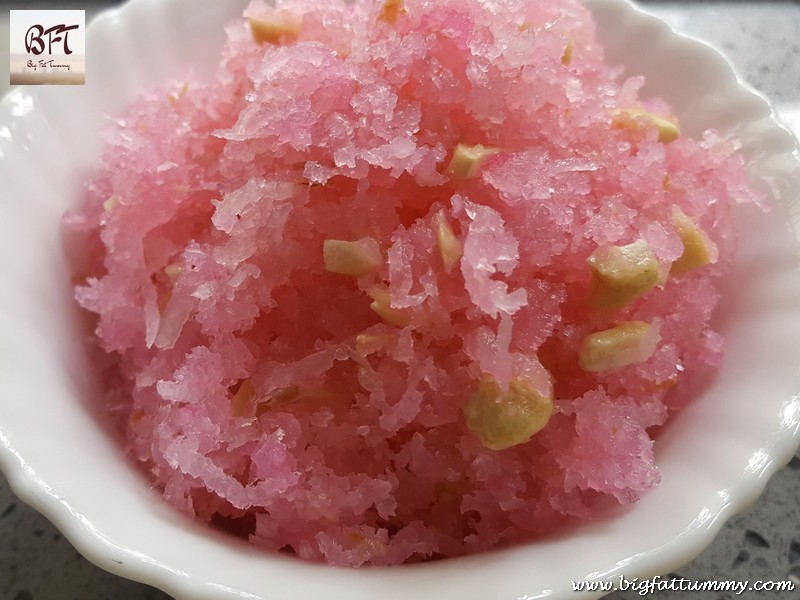 Step 4:     Take each leaf and wash it gently so as not to tear them. Then place on a kitchen towel and wipe dry, again taking care not to tear them.
Step 5:     Take some of the rice dough and spread it all over the leaf in a thin and even layer.
Step 6:     Take a tablespoonful (or more) of the filling and place along the midrib. Fold the leaf and press the edge lightly with the heel of your palm to seal or close. Do the same for all the leaves.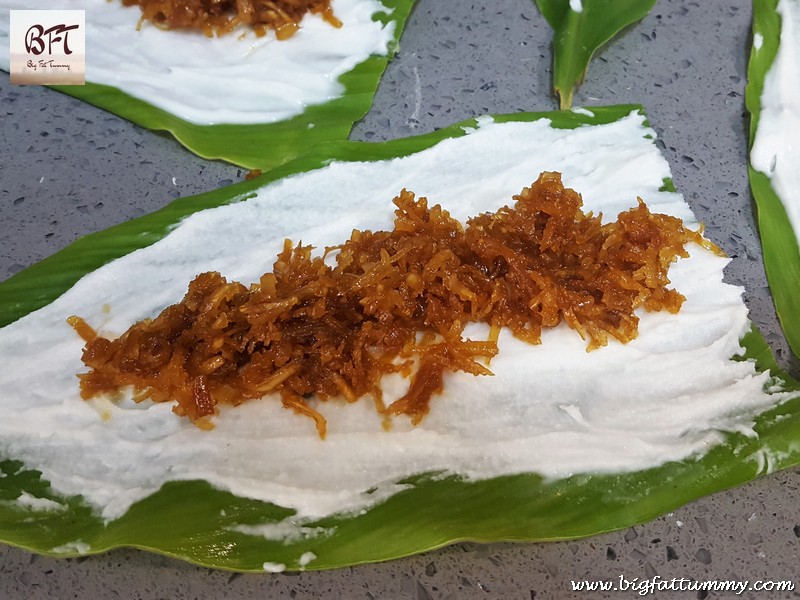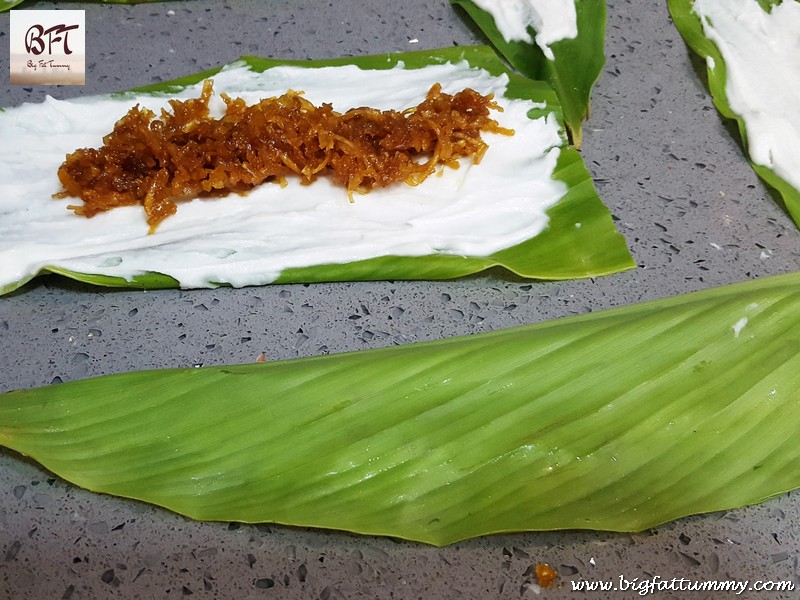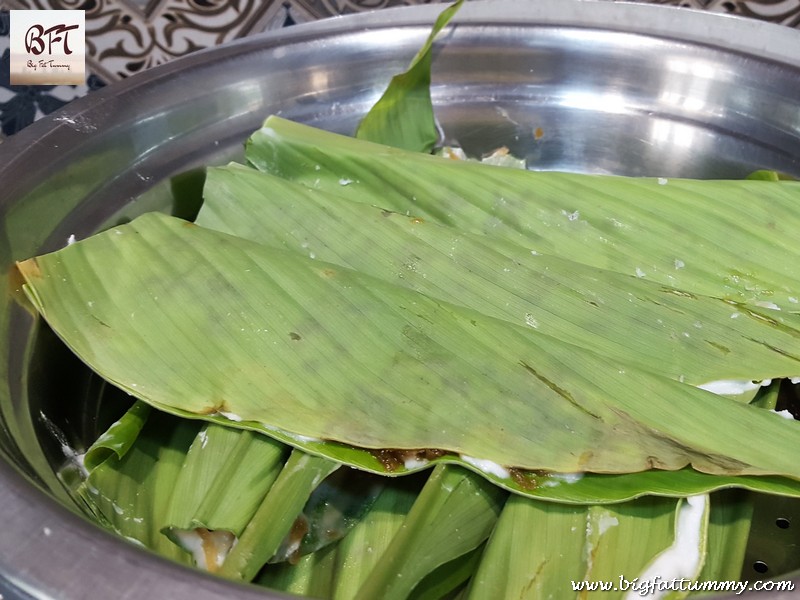 Part III – Steaming the Patoleos
Step 7:     Put enough water in a steamer and cover it. Let the water come to a boil. When steam starts escaping, open the steamer and place the patoleos in it. Cover and steam for 15 to 20 minutes on medium low heat till the patoleos are done (the colour of the leaves changes).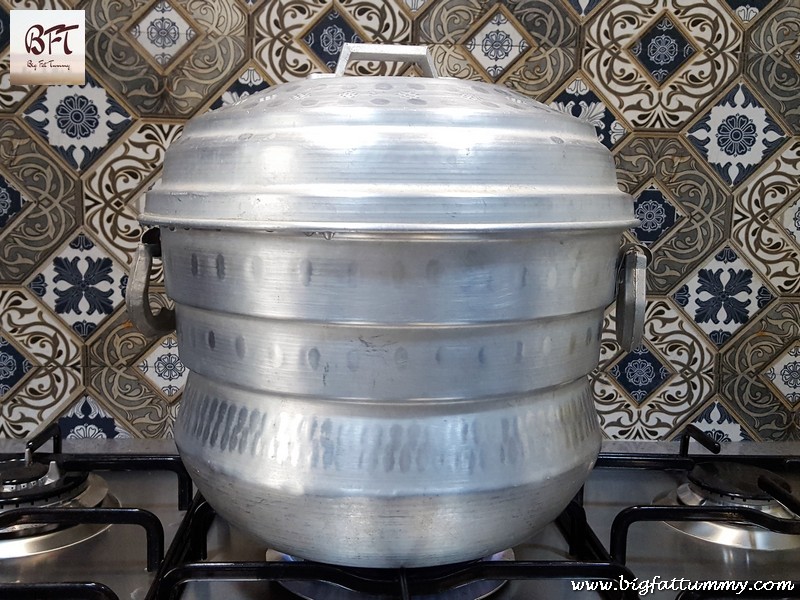 Important:
If the leaves are very long, cut them into halves. You can also trim off both tips.
The steamer should be pre-heated. Be careful whilst opening the hot steamer.
Do not overcrowd the steamer. Steam in batches.
Use only Basmati Rice Flour