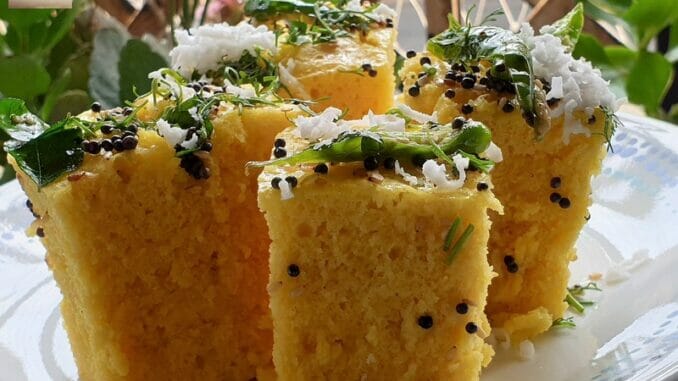 Khaman Dhokla is a popular Gujarati snack relished by people all over India. It is a steamed cake made primarily with gram or besan (gram flour) and then doused with tempered oil. The sweet flavour of the Khaman Dhokla is thus complimented with the flavour of commonly found Indian Spices and Herbs.
Serves: 4 to 6 Persons
Prep. Time: 30 Mins. + Standing Time
Cooking Time: 20 Mins (steaming) + 5 Mins (tempering)
Ingredients:
[ Standard Measure : 1 cup = 250 ml ]
Besan [Gram Flour] (tightly packed, sieved) – 2 cups
Corn Flour – 1 tbsp.
Turmeric Powder – ¼ tsp.
Hing [Asoefoetida] – ¼ tsp.
Sugar – ¼ cup
Citric Acid Crystals – 1 tsp.
Baking Powder – 1 ½ tsp.
Soda-bi-carb – ½ tsp.
Oil – 2 tbsp.
Salt – 1 ½ tsp.
For the Tempering:
Mustard Seeds (big) – 2 tsp.
Curry Leaves – 12 to 15
Green Chillies (slit) – 4 to 6
Sesame Seeds – 2 tsp.
Hing – ½ tsp.
Sugar – 1 tbsp.
Oil – 2 tbsp.
Coconut (fresh, grated) – 1 ½ tbsp.
Green Corriander (finely chopped) – 1 tbsp.
Step 1:     Take the besan, corn flour, ¼ cup sugar, citric acid, turmeric powder, ¼ tsp. hing and salt in a grinder and grind till it turns into a smooth powder with no crystals.
Step 2:     Transfer the flour mixture to a bowl and add 280 ml (1 cup + 30 ml) of water and whisk with an electric beater (or a whisk) till smooth and fluffy and without any lumps. Add 2 tbsp. oil and beat for another minute or two. Cover and leave aside for 45 minutes.
Step 3:     Later, keep a steamer on heat with adequate water. Cover and allow to pre-heat.
Step 4:     Take a square or a round (7 Inch) baking pan and grease with 1 tsp. oil.
Step 5:     Now add the baking powder and soda-bi-carb and whisk the batter for another 2 minutes till fluffy.
Step 6:     Transfer the batter to the greased baking pan and place the pan in the steamer. Steam for 20 minutes till a knife inserted comes clean.
Step 7:     When done, remove the baking pan from the steamer and allow to cool. When warm, run a knife around the edges and transfer the Khaman Dhokla to a plate. Let it cool further.
Step 8:     For the tempering, heat 2 tbsp. oil in a small vessel / pan and splutter the mustard seeds. Then add the hing, curry leaves, green chillies, sesame seeds and sauté on medium heat for 40 seconds. Then add ½ cup water and 1 tbsp. sugar. Boil this liquid whilst stirring and till the sugar dissolves.
Step 9:     Slice the khaman dhokla and separate slightly. Then pour the tempered liquid / wet the Khaman Dhokla generously. Garnish with green corriander and grated coconut and serve.