Team the minerals and vitamins in the palak with the protein in eggs to make a smacking breakfast or evening snack. Serve the quick and easy to make scrambled eggs with spinach right off the pan. Accompany it with bread slices or pao.
Serves: 2 Persons
Prep. Time: 5 Mins.
Cooking Time: 6 Mins.
Ingredients:
Eggs – 4
Spinach – 10 to 12 leaves or more (coarsely chopped / torn)
Tomato (chopped) – 1 medium
Whole Fat Milk – 4 tbsp.
Salted Butter – 1 tbsp.
Black Pepper Powder – ½ tsp.
Cheese Slice – 1
Salt – ½ tsp. or to taste
Step 1: Use a wire whisk to beat the eggs with salt and ¼ tsp. pepper. Add the milk and whisk again.
Step 2: Heat the butter in a pan and add the spinach and sauté till it wilts (about 3 minutes on medium heat).
Step 3: Add the tomato and sauté for a minute. Next pour in the beaten eggs.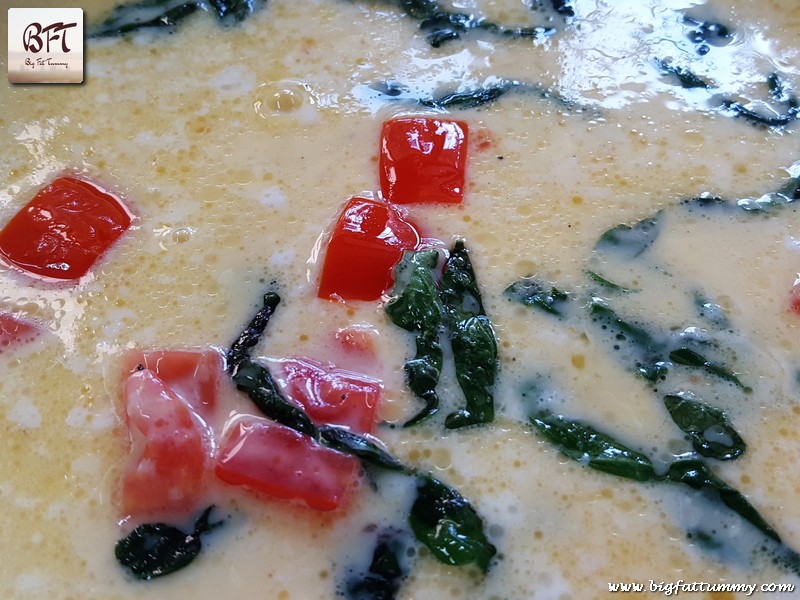 Step 4: Add a slice of cheese and scramble till the eggs are cooked. Sprinkle the remaining pepper powder and give it a quick stir.