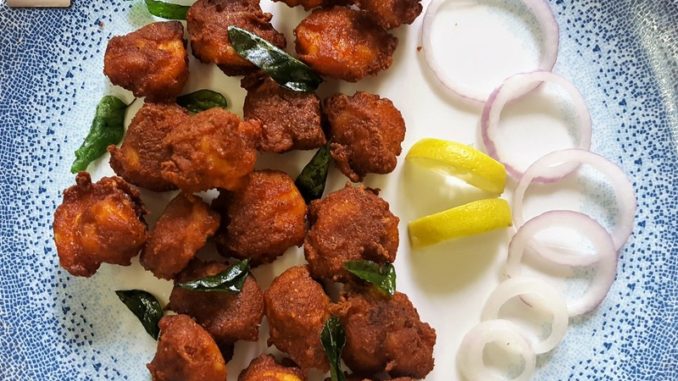 This is the Tamilian version of Prawns 65. The prawns are semi-pre-cooked with spices before they are deep fried. Since the raw prawns are cooked in the masalas, the flavor and the masalas adhere to the prawns and make them more flavourful even after they are deep fried. However, do deep fry the prawns for more or less the time mentioned in the recipe as we do not want the prawns to lose their juiciness.
Serves: 6 to 8 Persons
Prep. Time: 15 Mins.
Cooking Time: 10 to 12 Mins.
Ingredients:
Prawns – 600 gms.
Ginger-Garlic Paste – 1 tbsp.
Curry Leaves – 2 sprigs
Red Chilli Powder – 2 tsp.
Kashmiri Red Chilli Powder – a tsp.
Turmeric Powder – ½ tsp.
Corriander Powder – ½ tsp.
Garam Masala Powder – ½ tsp.
Corn Flour – 5 tbsp.
Oil – to deep fry
Salt – 1 tsp.
Step 1:     Shell & devein the prawns. Wash them and drain well. Apply salt and turmeric powder and leave aside for 10 minutes.
Step 2:     Next take the prawns in a pan and add the ginger-garlic paste, red chilly, corriander and garam masala powders and mix well. Add 2 to 3 tbsp. water and place the pan on heat. Cook covered on high heat for 2 minutes.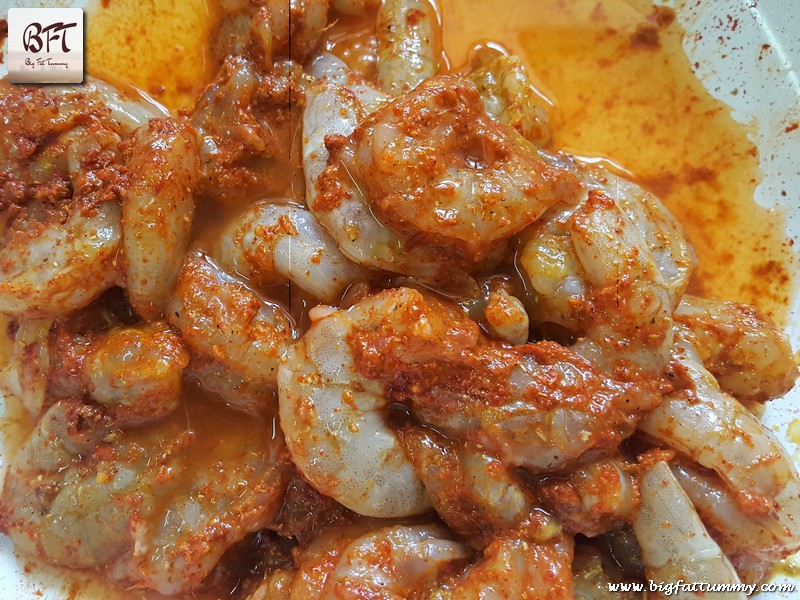 Step 3:     Open and continue cooking till most of the moisture evaporates (the prawns should be half / semi cooked). Switch off the flame. Let it cool. Once cooled, add the corn flour and mix well so that the prawns are well coated.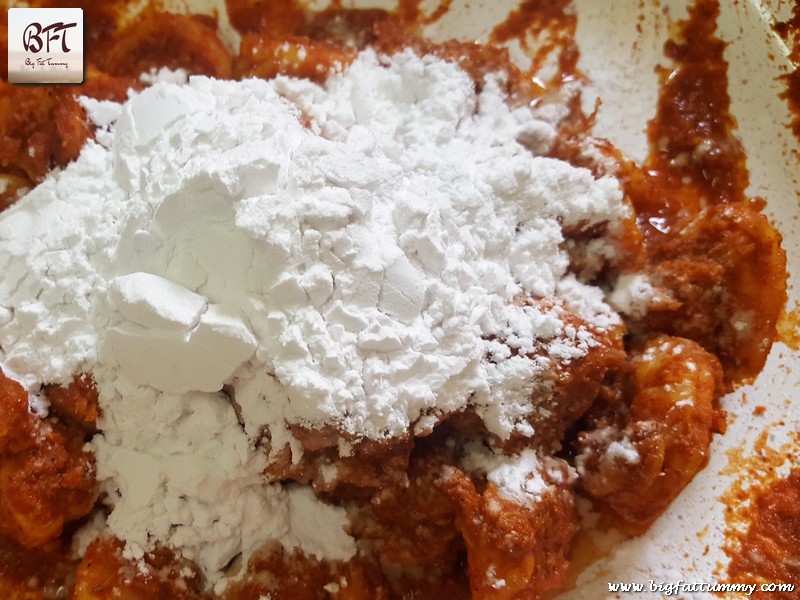 Step 4:     Heat an amount of oil suitable enough to deep fry in a pan and once hot, add the curry leaves and fry them for a few seconds till crisp. Strain the curry leaves out of the pan and keep aside for the garnish.
Step 5:     Fry the prawns in the same pan a few at a time for 2 to 3 minutes or till done. Remove and place on a plate lined with kitchen tissue.